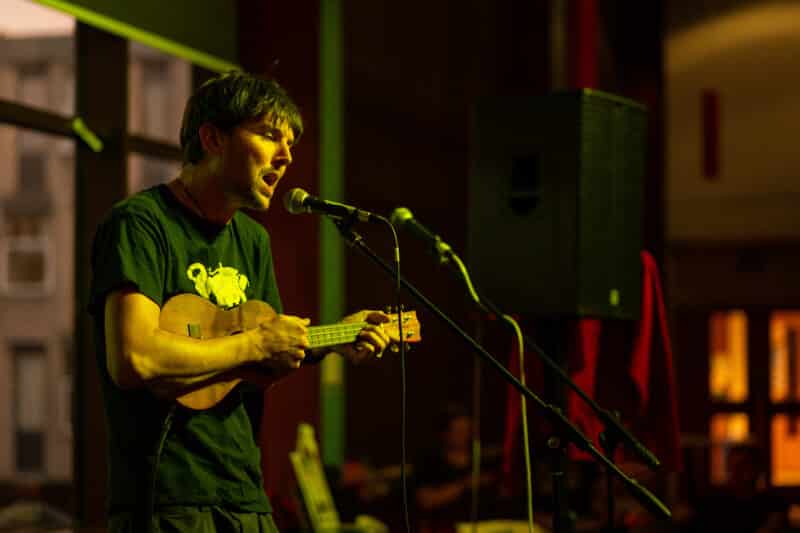 Exeter Library will be staying open after hours to offer the perfect remedy to the cold dark winter nights, with another spectacular evening of live music and fun.
Friday 18 November is the latest date in the Library Lates calendar, when music, art, creativity, behind-the-scenes tours, and refreshments will once again weave around the library shelves.
Tours behind the scenes at the library will be a new offering this autumn. The Hidden Spaces Tours will allow guests to venture into realms normally out-of-bounds to the public. They'll view collections of old and rare books, and be given time to browse during the half hour long tours.
July's event was a sell-out. It was the first since the pandemic when all 54 libraries across Devon and Torbay were forced to close. A cultural extravaganza featuring live music, DJ sets and installation art, the event aimed to throw open the doors, welcome people in and awaken the library in style.
Caleb Chester, Senior Supervisor of Development and Innovation at Exeter Library, said:

"The Library Lates back in the summer was a spectacular evening and we're very much hoping this winter edition will be the same. The November event will be a chance to come into a warm welcoming space, see something new behind the scenes, take in some music, do something creative and generally lift our spirits as the dark winter months draw in."

"We have a wonderful space here in Exeter Library and it lends itself perfectly to these events."
Musical highlights of the evening will include:
The Jess McAllister band
The Exeter-based Jess McAllister band's style ranges from free-spirited, nostalgic folk, through to rhythmic, gutsy blues, rock and pop. Jess has toured all over the UK, Ireland and Germany, and has performed in major festivals such as Glastonbury, Meadows in the Mountains (Bulgaria), Boomtown and Beautiful Days, Jurassic Fields, Sidmouth Fringe Festival and opening the mainstage at Gone Wild Festival.
Adam Sweet
This guitarist and singer-songwriter has marked his evolution into a fully-fledged blues-rock artist with the release of his latest studio album 'Sink or Swim'. With brooding ballads and rollicking rootsy rock he delivers honest tales of loss, longing, hope and strength in the face of adversity. Adam draws on British blues influences such as Fleetwood Mac and Free, as well as Little Feat and the Allman Brothers.
Silent Disco
Join our library staff DJs who are back on stage with an eclectic mix of tunes.
There will also be a number of workshops to take part in including:
DAISI Art Workshop with Cara Roxanne
Creating fantastical creatures which can be projected and animated, Daisi artist Cara Roxanne draws on dreams, myth, folklore, animals, handicrafts and wild flowers as a constant sources of inspiration.
Zine Workshop
Fun and friendly zine-making activities run throughout the evening, cutting out and glueing text and image together before photocopying to share. Organised by Exeter College Community Learning.
FabLab Workshops
The first Digital Makerspace in any UK Public Library! Tutor Marcus Brown will be demonstrating creating vector designs for the FabLab laser cutter. The FabLab offers laser cutting, a CNC router, 3D printing, vinyl cutting, dye-sublimation printing onto fabric, an A1 printer and digital embroidery.
Bar Nova will also be operating throughout the evening with beers, wines, spirits, soft drinks and snacks.
Tickets are £8 or £6 for concessions and are available to over 16s only. They can be bought at the library in Castle Street, by telephoning the library on 01392 407027 or through Eventbrite here.
A network of 54 libraries in Devon and Torbay, and four Devon mobile libraries, are run by Libraries Unlimited, an independent staff and community owned charity. Join the library for free by filling in the online form. Join the Library – Devon (devonlibraries.org.uk) or Torbay (torbaylibraries.org.uk(Follow Libraries Unlimited on Facebook.
For further information and full contact details please visit our web page librariesunlimited.org.uk.