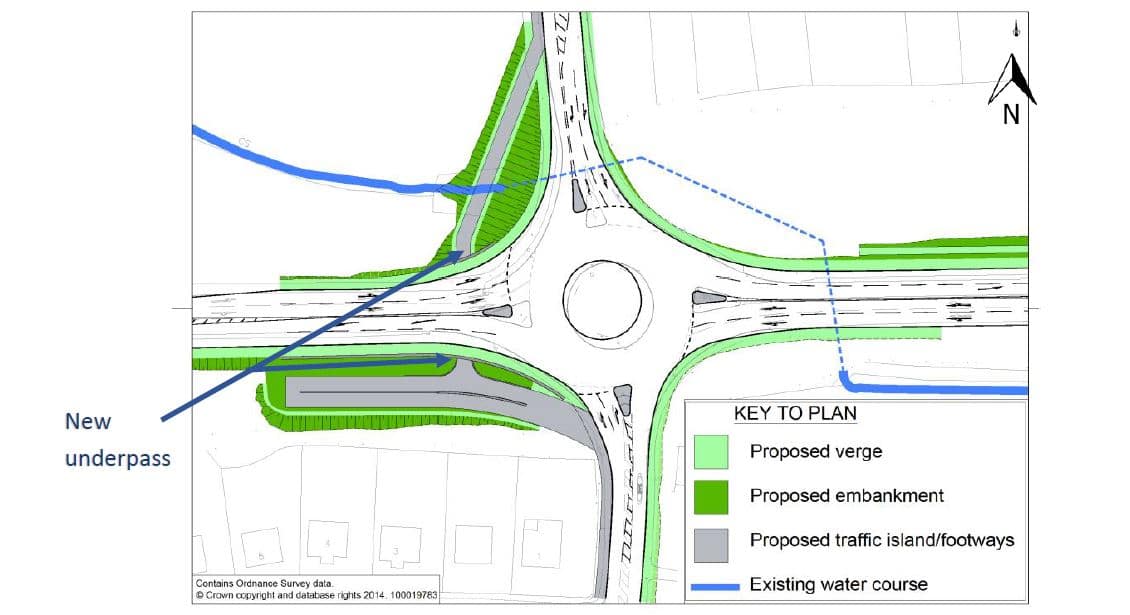 A public consultation on revised plans to improve Bishop's Tawton Roundabout is underway.
Feedback from the previous consultation showed residents were concerned that increasing the number of lanes through the roundabout would make it more difficult for pedestrians to cross. This was especially important as the crossing formed a key access to a local school.
An underpass has been added to the design to provide a pedestrian connection across the roundabout. A footbridge was considered at the east and west side of the roundabout but was rejected because of the impact on residents.
Residents close to Bishop's Tawton Roundabout were also concerned about the impact that the improvements may have on their homes and access to services.  The updated proposals see most of the widening on the north west corner of the junction and indicate that future improvements would aim to utilise as much of the public highway as possible.
Councillor Andrea Davis, Cabinet Member for Infrastructure, Development and Waste Management, said:

"I am pleased that, thanks to the valuable feedback from residents as part of the initial consultation, we have been able to produce these revised plans for the improvement of Bishop's Tawton Roundabout.

"I would like to express our appreciation to those who took the time to let us know what they thought of our initial scheme, and let residents know that we would be grateful to receive any additional comments in respect of these amendments."
The plans are part of a multi-million project to upgrade of the North Devon Link Road between South Molton and Bideford. Devon County Council has been successful in its bid for £83m of central government funding to improve the North Devon Link Road. The improvements will consist of carriageway widening between South Molton and Portmore Junction, and improvements at 7 junctions between South Molton and Bideford. One of these junctions is the Bishop's Tawton Roundabout in Barnstaple.
The scheme will be subject to final approval following the submission of a full outline business case to the Department for Transport in 2020, with the main works commencing later in the same year. The consultation document detailing the revised plans for Bishop's Tawton Roundabout can be downloaded here.
Residents wishing to express their views on the revised plans can email transportplanning@devon.gov.uk or phone 0345 155 1015 or write to: Transport Planning, Lucombe House  County Hall, Topsham Road, Exeter, EX2 4QD
The consultation closes on Friday 23 November.