Devon County Council has handed its £93 million bid for Department for Transport (DfT) funding, as it aims to receive a share of money available nationally through the Local Majors Fund. The Outline Business Case was presented to the Department for Transport on 18th December 2017.
Councillor Andrea Davis, Devon County Council Cabinet Member for Infrastructure, led a delegation along with Councillor Pat Barker, Deputy Leader of North Devon District Council, Councillor Jane Whittaker, Leader of Torridge District Council, and North Devon MP Peter Heaton Jones. They presented the documents to the Rt Hon Chris Grayling MP, Secretary of State for Transport in London.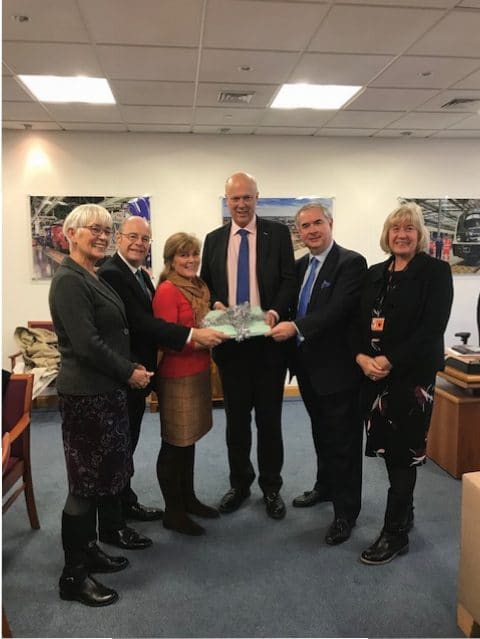 Councillor Andrea Davis said:
"Submitting the Outline Business Case is a key milestone for the North Devon Link Road project. A lot of hard work has gone into getting the scheme to this stage and if our bid for Local Majors Funding is successful it will be a tremendous boost for the economy in northern Devon and also for improving safety on this vital route."
Deputy Leader of North Devon Council, Councillor Pat Barker, said:
"I'm really pleased with the news, it's the culmination of so much hard work by us and Devon County Council over the last two years. We have to thank our MP Peter Heaton-Jones, who has worked tirelessly on the project and also our own officers in the economic development team for their contributions. Fingers crossed we don't have to wait too long for a result for North Devon and it's future economic growth but most importantly for the safer journeys the improvements will make."
Jane Whittaker, Leader of Torridge District Council, said:
"The North Devon Link Road is important in so many ways to our residents and our businesses. The key considerations are of course to improve the success of our local economy and that of public safety. The business case submission is only the beginning of the journey, but the great news is that the journey has begun and I am delighted to have been there to support the submission of the funding bid."
If the DfT approves the Outline Business Case, Devon would aim to submit a planning application in late 2018 and a full Business Case in 2020. If successful, this would potentially enable construction to start in late 2020.