Devon County Council advertised Traffic Regulation Orders for permanent changes on Chard Road, Exeter between 28 April and 20 May 2022. A proposed modification to these Traffic Regulation Orders is being consulted on between 7 June and 17 June 2022.
Proposed Traffic Regulation Orders
A Traffic Regulation Order (TRO) is a legal document which allows Devon County Council or the police to enforce traffic regulations, such as speed limits, on-street parking and prohibitions of vehicles.
These TROs will prohibit the passage of vehicles (excluding cycles and certain other classes of vehicle, as set out in the Draft Order – 5979) from a point 43 metres west of the junction of Chard Road and Whipton Lane to a point 44 metres west of the same junction. This would make permanent the temporary restrictions introduced in July 2020.
These TROs will also introduce sections of 'No Waiting At Any Time' restrictions along Chard Road (see Draft Order – 5980 for a schedule of the proposed restrictions) so that vehicles do not park inappropriately. This would ensure that cycles can safely and comfortably proceed past the closure point and continue along the E3 cycle corridor.
Objectives of proposals
The section of Chard Road between the junctions with Whipton Lane and Nicholas Road forms part of the E3 cycle corridor, which connects Redhayes Bridge, Whipton, Heavitree and Exeter city centre. A modal filter on Homefield Road and contraflow cycling along Park Place has already been implemented in the area to facilitate the E3 cycle corridor.
By removing through vehicular traffic from Chard Road, it is intended to provide continuity along the E3 route, providing a more attractive route for cyclists, as well as improving the amenity of the area, for example by reducing traffic noise on Chard Road. They will build upon Devon County Council's encouragement of active travel in response to the COVID-19 pandemic, and support the Council's Climate Emergency objectives by encouraging modal shift away from the private car.
As noted in the Phase 2 Consultation Update, a decision on a potential area-wide traffic filter scheme for Heavitree and Whipton will be made at a future Exeter Highways and Traffic Orders Committee (HATOC) meeting. However, it was necessary to consult on permanent changes on Chard Road at this time, due to the legal timescales of the temporary arrangements.
Consultation dates
The proposals for this area were advertised between 28 April and 20 May 2022.
A decision on whether to proceed with scheme will be made at the Exeter HATOC meeting on 6 June 2022, based on comments and objections received.
Scheme appearance
The appearance of the permanent scheme will be similar to that of the existing temporary scheme (see image below), with planters used to close the road to vehicular traffic whilst allowing the passage of cycles. Double yellow lines will be introduced adjacent to the closure point.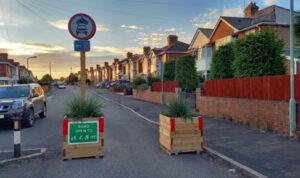 Illuminated 'No entry' and 'No through road' (except for cyclists) signs will be introduced along with E3 directional cycle signage, as shown in the Plan. Some redundant signage relating to priorities at the build-out adjacent to the closure point, including 'Priority over vehicles from the opposite direction' and 'Give way' signs, will be removed.
However, it should be noted that except where explicitly referenced in the Draft Orders, the detailed scheme design is beyond the scope of the TROs (for example, the design of the planters is subject to change).
Proposed Modification
Following feedback from local residents regarding the impact of the closure location on access to their property, a modification to the TROs is being consulted on between 7 June and 17 June 2022. This would relocate the closure approximately 20 metres east of the existing temporary scheme.
Representations regarding the proposed modification can be made in the following ways:
Email: trafficorders@devon.gov.uk to arrive on or before 17 June 2022
Post: County Solicitor, Devon County Council, County Hall, Topsham Road, Exeter, EX2 4QD to arrive on or before 17 June 2022
Documents
To view copies of the deposit documents for the TROs please click on the links below
To view copies of documents relating to the proposed TRO amendment, please click on the links below
Accessibility
Transcripts/descriptions of the TRO documents are given below. If you need guidance or an alternative format, email transportplanning@devon.gov.uk with details of any preferred format and the assistive technology you use.