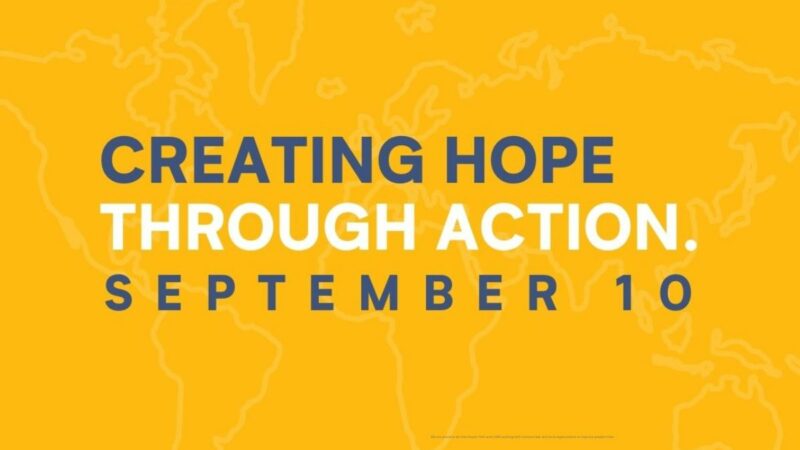 Each year, organisations and communities come together to raise awareness of how we can create a world where fewer people die by suicide. 
Every life lost to suicide is a tragedy. And we know that suicide is preventable, it's not inevitable.
World Suicide Prevention Day (Sunday 10 September) this year continues the international theme of 'Creating Hope Through Action'. It aims to inspire confidence in all of us that our actions, no matter how big or small, may provide hope to those who are struggling.
Positive actions could include using some of the training and resources highlighted below to develop your skills and confidence to talk with people who may be experiencing poor mental health or distress.
It is also important to look after ourselves and take action to improve and maintain our own mental wellbeing.  
The three courses below are delivered online by a network of local trainers and are currently available to attend free of charge:
Community suicide awareness – understanding myths, stigma and barriers and how we can challenge these, as well as the importance of compassion.
Emotional resilience – this self-care course increases participants ability to cope with emotional distress, or stressful life events by knowing more about wellbeing, emotions, and how to build our resilience.
Connect 5 – this training provides participants with tools and techniques to improve mental wellbeing that can be applied in your own life and within your working practice.
For enquiries about the training, please contact training@petesdragons.org.uk
Support and advice
We can all struggle sometimes, and it is important to seek support when you need it. These local and national organisations that offer advice and support:
Qwell provides free digital mental and emotional wellbeing support for people 18+. It includes a variety of self-care resources and information, peer support forums, and access to accredited counsellors.
Kooth professional online support for emotional wellbeing and mental health, 365 days a year for children & young people aged 11-18 years old.
Talkworks – free, confidential, service for people aged 18 years and over in Devon (excluding Plymouth), giving you the tools and techniques to improve your mental and physical wellbeing.
First Response Service – support for anyone 18+ experiencing a mental health crisis, or who have concerns about someone else's mental wellbeing (18+). Providing access to mental health care, advice and guidance 24/7.
Mental Health Matters Devon provides a 24 hour, 365 days a year mental health helpline on 0800 4700317 as well as telephone advice and support at The Moorings.
Samaritans – range of support, tools and resources, 24/7 support via phone, app, online chat. For those who may be struggling themselves, or worried about someone else.
Papyrus – national charity dedicated to prevention of suicide and promotion of positive mental wellbeing for children & young people. Includes 'HOPELINE' 24/7
Pete's Dragons – Devon-wide commissioned suicide bereavement service (including Plymouth and Torbay), providing support for children and adults bereaved by suicide. This includes support for organisations impacted by suicide.
Andy's Man Club – a men's suicide prevention charity, offering free peer-to-peer support groups across the United Kingdom and online. There are local groups in Exeter, Honiton, Newton Abbot, Torbay and Plymouth.
Ask for Jake – community-led support and training in north Devon, including signposting and resources for individuals who are struggling or for those concerned for others.