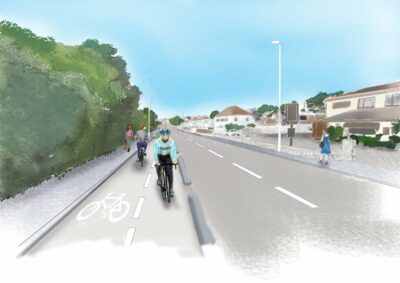 Devon residents are invited to have their say on proposals for new walking and cycle routes and improvements in the Newton Abbot, Kingsteignton and Kingskerswell areas.
This September a consultation on the draft Heart of Teignbridge Local Cycling and Walking Infrastructure Plan (LCWIP) is being launched, and residents can express their views online or at a series of online events.
The plan has been drawn up by Devon County Council and Teignbridge District Council and identifies gaps in the existing active travel network.
When the final draft is published, it will detail which schemes should be prioritised and where future investment should be targeted over the next 20 years.
It follows the Department for Transport's LCWIP framework which forms a part of the Government's strategy to increase the number of trips made on foot or by bicycle.
The results of the consultation will help identify which potential schemes will have the greatest impact and which existing schemes need an upgrade.
The LCWIP presents aspirational proposals for Newton Abbot Town Centre and the Kingskerswell & Torbay, Wolborough, Buckland & Milber and Kingsteignton areas.
And depending on the consultation outcome, schemes will be prioritised and then selected for further development and design.
The proposals include three new cycle routes in Newton Abbot, at Highweek Street, south of Halcyon Road Junction and along Oak Place, from the Railway Station to The Avenue.
In the Kingskerswell & Torbay areas, proposals include improving accessibility at the Penn Inn Roundabout underpasses, and a new route at Aller Brake Road.
Proposals in the Kingsteignton and the Teign Estuary Trail Link areas include widening the existing Kingsteignton Road/Newton Road route, and improvements to walking and cycling at Crossley Moor Road and Rydon Road.
In the Milber and Buckland areas, proposals include a new route in Quay Road and a protected shared use path along Brunel Road to replace the existing on-road route.
And in Wolborough, at least one new walking and cycling crossing on the A381 Torquay Road has been proposed and a new cycling and walking bridge.
All these schemes are dependent on external funding and you can read the full draft report here from September 1.
Councillor Stuart Hughes, Devon County Council's Cabinet Member with responsibility for cycling said

"This is part of our strategy over the next 20 years to boost active travel in the area.

"We need your views to have a better understanding of the public's priorities and help inform the plan, which is part of our ambition for a cleaner, greener Devon.

"Both Devon County Council and Teignbridge District Council have declared a climate emergency and we recognise that modal shifting to cycling and walking for shorter journeys are important if we want to reduce transport emissions.

"Cycling and walking improves our health, reduces air pollution and improves our environment."
Teignbridge Executive member for Planning, Cllr Gary Taylor said
"This is a great opportunity for people in the Heart of Teignbridge to input into future plans to improve cycling opportunities in the Kingskerswell, Kingsteignton and Newton Abbot area. Creating and improving cycling routes is an important aspect of our efforts to tackle climate change by reducing transport emissions as well as helping people to be more active through cycling.
"I'd urge local people to look at the proposals and to let us know what they think of them by responding to the consultation."
Engagement on an Exeter Local Cycling and Walking Investment Plan (LCWIP) is also underway. As well as strategic connections to existing communities and future developments, the plan will also aim to support active travel access from the edge of the city through new links and green lanes.
Initial discussions with community representatives in the city and a number of parish councils on the outskirts of Exeter was undertaken in August,
Further public consultation will be held on the draft LCWIP at the end of the year.
To take part in the consultation from Wednesday 1 September you can: