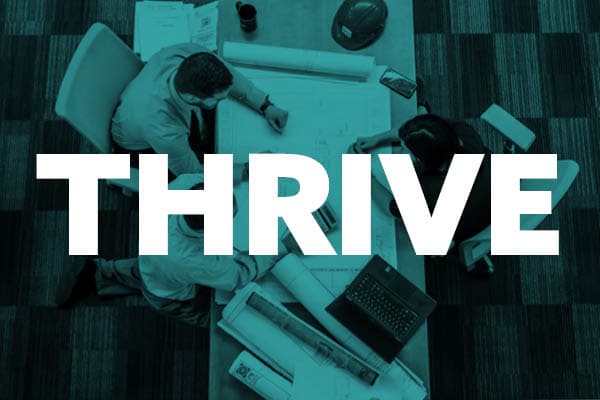 A new business support programme has been launched offering a range of business training and support services for the self-employed and small to medium size enterprises (SMEs) in Devon, Plymouth, Somerset and Torbay.
Up to 600 businesses will be supported through the Heart of the South West Growth Hub's new programme – Thrive.
The programme is part funded by the ERDF and the Department for Levelling Up, Housing and Communities with match funding from the Growth Hub and the Department of Business, Energy and Industrial Strategy. The programme aims to stimulate economic development through improving SME productivity and competitiveness, helping them to grow, create jobs and reach new markets.
Thrive will offer a free diagnostic and training service, with up to 12 hours of tailor-made support that will enable businesses to improve and grow. Enrolled businesses will be able to receive a one-to-one diagnostic and be able to attend webinars around specialist topics such as digital skills, finance, marketing, HR and business planning.
A key element of the programme is its digital support which looks at how businesses can improve their online presence and digital skills. Following an initial discussion, businesses will be signposted to the most relevant sources of support and advice from one of Thrive's support providers.
Councillor Rufus Gilbert, Cabinet Member for Economic Recovery and Skills, said:

"Business support such as Thrive is vital as the South West looks to make a strong recovery after the pandemic. This programme provides local businesses with an excellent opportunity to review and enhance their business practice and develop new skills in the areas where they most need support and training."
To apply, businesses need to register their interest online at www.heartofswgrowthhub.co.uk/business-support-programmes/thrive/ and one of the Growth Hub's business advisers will be in touch.
Devon County Council is the accountable body for Thrive, working with three specialist business support partners – Cosmic, North Devon + and Business Information Point – to deliver the programme.
The Heart of the South West Growth Hub Service for All is receiving up to £781,965 of funding from the England European Regional Development Fund (ERDF) as part of the European Structural and Investment Funds Growth Programme 2014-2020. The Department for Levelling Up, Housing and Communities is the managing authority for ERDF. Established by the European Union, ERDF funds help local areas stimulate their economic development by investing in projects which support innovation, businesses, create jobs and local community regeneration.
For more information visit the Heart of the South West Growth Hub website.