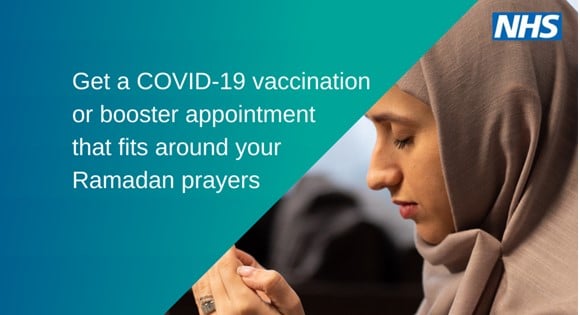 The Islamic holy month of Ramadan is due to begin on the evening of 2 April 2022 (depending on the sighting of the new moon). It's an important time for Muslims and involves a month of fasting, worship and community celebration.
Muslims in Devon are being urged to be 'Ramadan ready' and get their first, second or booster dose of the COVID-19 vaccine to help keep themselves and others observing the holy month safe.
Scholarly leaders and the British Islamic Medical Association have stated that it is permissible to have the COVID-19 vaccination while fasting during Ramadan and confirmed that having the vaccine does not invalidate the fast, nor does it contain pork or other animal, foetal or alcohol products.
If you are still unsure whether you should have the COVID-19 vaccine during the holy month, please speak to your local Imam for guidance.
You can book your COVID-19 vaccination appointment online or find your nearest walk-in clinic via the NHS website.
Ramadan Mubarak