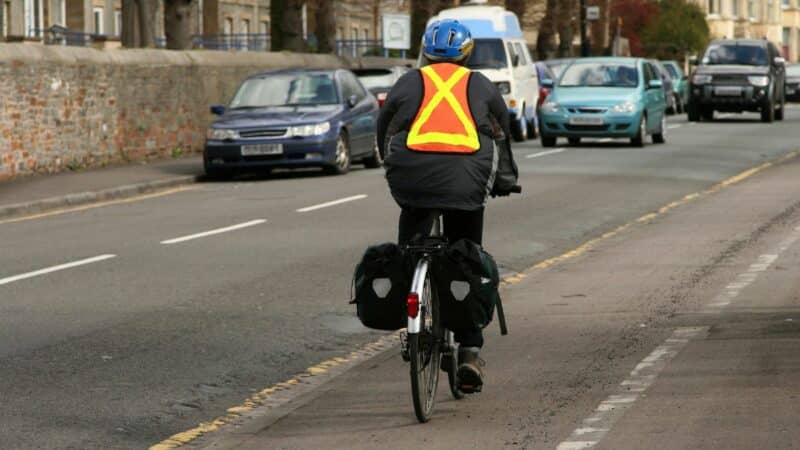 British Summer Time ends on Sunday 30 October. As the evenings get darker earlier and the weather begins to turn, we're reminding road users to "be bright, be seen".
As the clocks go back, many of us will find ourselves travelling to and from work or school in the dark. Poor weather can also impact our visibility, and so we must be extremely vigilant whilst travelling.
Motorists are asked to look out for more vulnerable road users and to give cyclists, motorcyclists, and horse riders plenty of space.
Statistics show that last year vulnerable road users, including motorcyclists, pedestrians, and cyclists, accounted for half of all road fatalities.
The majority of these fatalities involved a collision between a vulnerable road user and the driver of another vehicle. And the most common contributory factor involved for both parties was failure to look properly.
To help prevent this, cyclists, pedestrians, motorcyclists, and horse riders are all encouraged to wear reflective and fluorescent clothing to ensure they can be seen clearly.
Everyone is reminded of the following advice:
• Pedestrians should use marked crossing points where possible. Although they may have right of way over traffic on a zebra or light controlled crossing they are still responsible for ensuring that they don't step out onto the crossing until vehicles have stopped for them;
• Cyclists must use a white front light, a red back light and a red reflector at the back;
• Horse riders are advised to select crossing points very carefully and are asked to show courtesy to drivers who have slowed down for them;
• Motorists should overtake only when it is safe to do so, and drivers should pass slowly and allow plenty of room when overtaking;
• All road users should look out for each other and take care, particularly in wet or icy conditions or if there are leaves on the road.
More information about travelling on Devon's roads this winter can be found on our winter webpages and on the Travel Devon website.