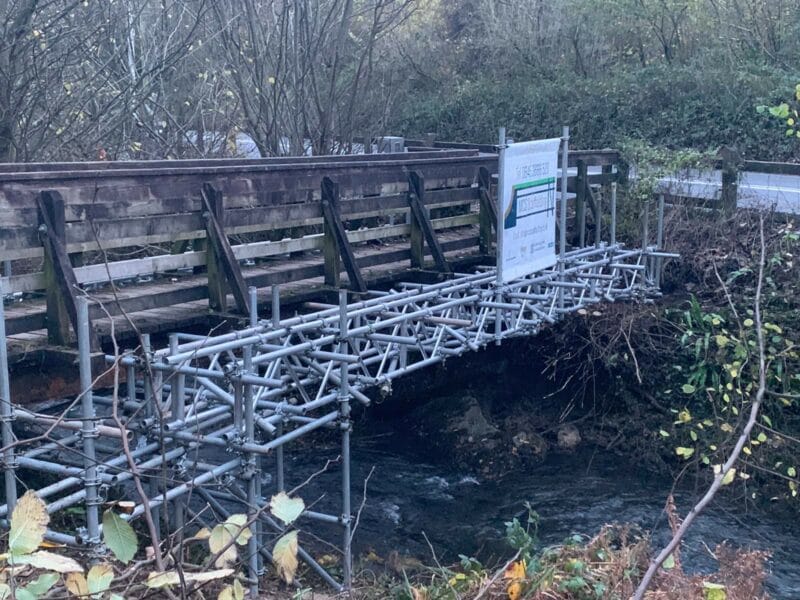 We're carrying out work this week to replace a footbridge in Dartington.
The existing Foxhole Footbridge, which carries a footpath and cyclepath over Bidwell Brook, has had to be temporarily supported with scaffolding for the past year due to deterioration of its steel and timber structure.
From today (Monday 25 October) a £100,000 scheme is getting underway to install a new bridge which will be constructed from steel main beams and features an anti-slip glass fibre-reinforced plastic deck and a tapping rail at the edge of the bridge deck to improve accessibility for blind and partially sighted people.
To enable work to be carried out safely a temporary closure of the footpath (footpath16), cyclepath (National Cycle Network route 2) and the accessible trail to the east of Lower Tweed Mill / the Dartington Cider Press Centre will be in place from today (Monday 25 October), until the morning of Saturday (30 October). Information about alternative routes will be provided on site.
The A385 Shinners Bridge to Queens Arms, Dartington, will be closed overnight on Friday (29 October) from 6:30pm until 7am on Saturday (30 October) while the bridge is delivered to site and lifted into place.
A signed diversion route will be in place via A384, A38, A383, A382, A381, A385 and vice versa.
Councillor Stuart Hughes, Cabinet Member for Highway Management, said:

"Foxhole Footbridge is well used and provides an important connection between Dartington and Totnes. It's essential this bridge is replaced and the new pre-fabricated structure will be much more fit for purpose and accessible.

"Work has been scheduled to coincide with half term to minimise disruption for the families that use it on their way to the local schools in the area."
Councillor Jacqi Hodgson, County Councillor for Totnes and Dartington, said:

"I welcome this further investment in this important non-vehicular route in Dartington. The new bridge by the old Mill will improve the safety and access for the shared pedestrian and cycle path, a vital link between Dartington and Totnes.

"This is a much used and much-loved safe route for people of all ages, many of whom use it to access Dartington shops and schools and Totnes station safely and without the need for a car. I'm delighted that it is being well maintained, and with the new bridge and all the scaffolding removed, we will once again be able to enjoy the view of the beautiful Bidwell Brook and the Mill Wheel as we use this route."
Work is weather dependent and may affect the schedule of the scheme.