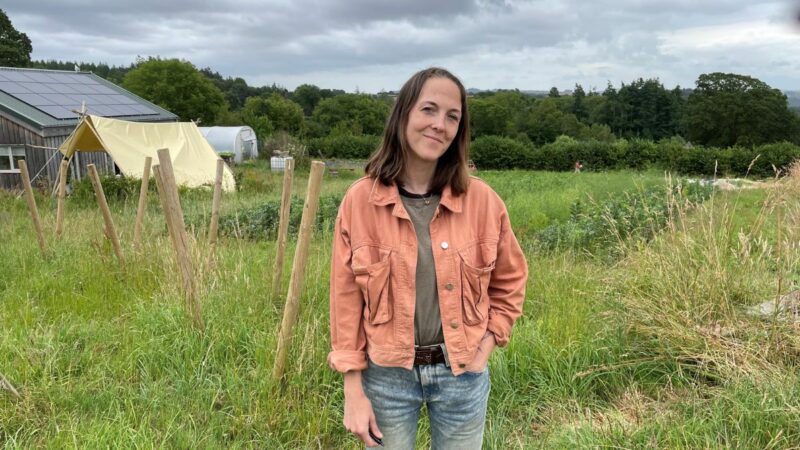 Devon is proudly leading the way in the education of regenerative farming, sparked by our funding.
Following a successful pilot funded by our Natural Capital Challenge Fund last year, the Apricot Centre Community Interest Company (CIC) in Dartington is now the only location in the country offering Level 2, 3 and 4 Diplomas in Regenerative Land Based Systems.
Rachel Phillips, one of the Directors at the Apricot Centre, says: "The Natural Capital Challenge Funding has been a huge springboard which has helped us move into a different type of enterprise. It's gone from strength to strength.
"We always ran education courses but previously it was much more short courses with around 12 people at a time. We're now the only place running Level 2, 3 and 4 Diplomas in Regenerative Land Based Systems.
"Working with Devon County Council and its Natural Capital Challenge Fund we found there were a huge amount of people that want to learn regenerative farming methods. It's not just new entrants to farming but also fifth generation dairy farmers who know that working with nature and nature friendly farming is the way forward.
"We want to be trailblazers in education and what we've created here with Devon County Council is an amazing course that's replicable in other areas."
The 66-acre farm was founded as a CIC in 2015 by Mark and Marina O'Connell, leasing the land from the Biodynamic Land Trust.
Today it's an education provider as well as being a working farm, rearing cattle and pigs and growing vegetables, wheat and grain.
"When we started there was no training centre, no barns, no trees, and no biodiversity on site," recalls Rachel.
"It's been an amazing process to go through, and it's exceeded our expectations in ways we couldn't imagine. We feel a huge amount of gratitude that we've been able to do it.
"The funding for education courses has not only helped other farms in the area to turn to regenerative methods, but we've also employed people in the community to help us grow. It's been a fantastic opportunity for us.
"We have an ecosystem of people as well an ecosystem of biodiversity and we feel at the heart of the community here."
Among those to have benefited from the courses at the Apricot Centre was Richard Ainslie, who studied the pilot Level 3 Regenerative Land Based Systems, and he is currently studying the Level 4 Diploma.
He said: "If you're interested in getting into farming or you want to find a way into land work, I would absolutely recommend it. This course is a brilliant way to break into it.
"I was looking for a way to move into farming and growing and it just seemed like the perfect opportunity. It's both real experience of working on a farm but also with the theoretical background that the course provides. It effectively opened up the world of growing to me, which I'm now doing full time, and hope to spend my life doing."
The team at the Apricot Centre CIC has been invited to the Oxford Real Farming Conference to talk about their farming and teaching methods, and Councils in Nottinghamshire and Suffolk have also enquired about finding out more about the farming courses.
It fills Rachel with optimism for the future: "Hopefully other councils can be as forward thinking and progressive as Devon County Council has been to fund those courses and more people will be able to leave a legacy of regenerative farming. As an organisation we'll just keep sharing knowledge.
"We have Level 3 for another year, with 120 students coming through the school of land based systems, and we're working with other colleges to see if they want to run courses.
"I want to secure funding for Level 2, 3 and 4 to run year on year. Who knows, maybe a degree course? We have to do this because it really is a way we can make a difference to the environment and connect back to land and improve the situation we're in at the moment."
The latest pilot scheme at the Apricot Centre is part of the current wave of the successful Train4Tomorrow Skills Bootcamps, catering for 40 students and the only skills Bootcamp in the UK covering regenerative farming.
Councillor Rufus Gilbert, Cabinet Member for Economic Recovery and Skills, said:

"This is probably one of the best examples of what the Natural Capital Challenge funding was meant to achieve. It's the right way to spend a relatively small sum of money, because the rewards are very high. This isn't just about post-covid economy but about the future global economy.

"The green economy is about future jobs and the courses being run at the Apricot Centre are foundation stones being laid for the future farming community and investment in the future of people.

"We're a rural economy so you'd expect the county to invest in improving the land and improving the economy – and it's great to see that Devon is leading on this change to agriculture.

"Farmers want the knowledge to go about making changes. There's a desire, there's no doubt about it, but they can't do it unless there's the education to show them how to do it. It goes much further than producing food – it's about sustainability of the planet."
The Natural Capital Challenge Fund was created to stimulate the county's post-Covid recovery through investment in the Natural Capital sector and was part of Devon's £6 million recovery programme, which included green recovery as one of its key areas for support.
The Apricot Centre CIC was one of six local projects to receive a share of £300,000 through Devon County Council's Natural Capital Challenge Fund last year.
All of the projects awarded funding contributed to job and skills creation, while improving and safeguarding Devon's local environment.