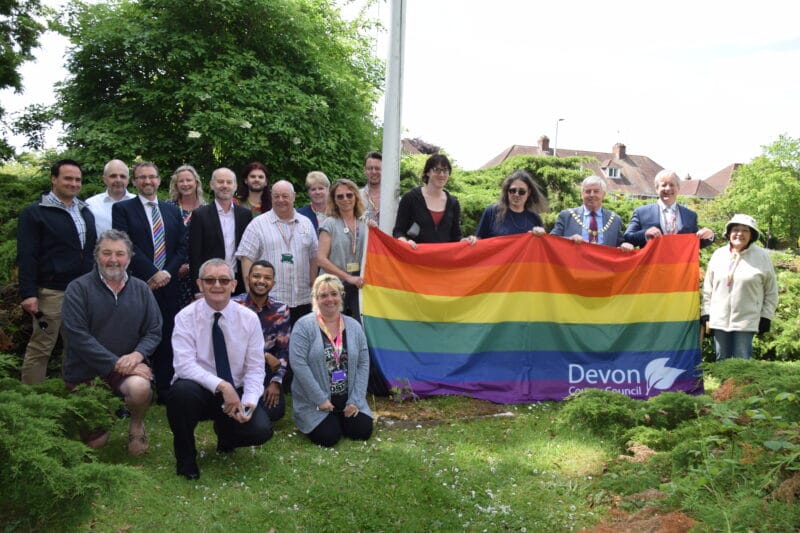 Celebrations began at County Hall this afternoon, to mark the start of Exeter Pride.
Our Chairman of the Council, Cllr Jeff Trail, and Chief Executive, Phil Norrey, were joined by organiser, Alan Quick, to raise the Pride flag.
The Chairman started by thanking people for helping to celebrate the event this lunchtime.
"We know that many LGBTQ+ people experience isolation, so it is wonderful that Exeter Pride is able to take place again, to bring people together and celebrate, after some very difficult years.

The (Exeter Pride) Committee will have been working very hard behind the scenes to bring this back, and we hope that by flying this flat, it marks the start of a wonderful weekend, and demonstrates our commitment to LGBTQ+ inclusion."
Exeter once again will host the weekend's celebrations, with a Rainbow March gathering from 11:30am at the St Sidwell Centre, for a 12pm start, though the city centre to Northernhay Gardens.
Local choir, Spectrum, will open the afternoon performances, and the stage will feature a mix of musicians such as the local folk duo, The Suthering, and spoken word rap artist, Mama Tokus.
There will be stalls and a range of local food vendors and refreshments.
Committee Chair, Tasmin Scott, said:
"We have significantly less money to invest than previous years, but it is important for our event to be free for everyone to attend, and have set up a Crowdfunder to help keep Exeter Pride accessible."
Not only will the crowdfunder support Exeter Pride 2022, it is also the only way to guarantee entry to Exeter Phoenix's Pride after-party. And local venue, Pink Moon, is also offering free entry all-night to wristband holders.