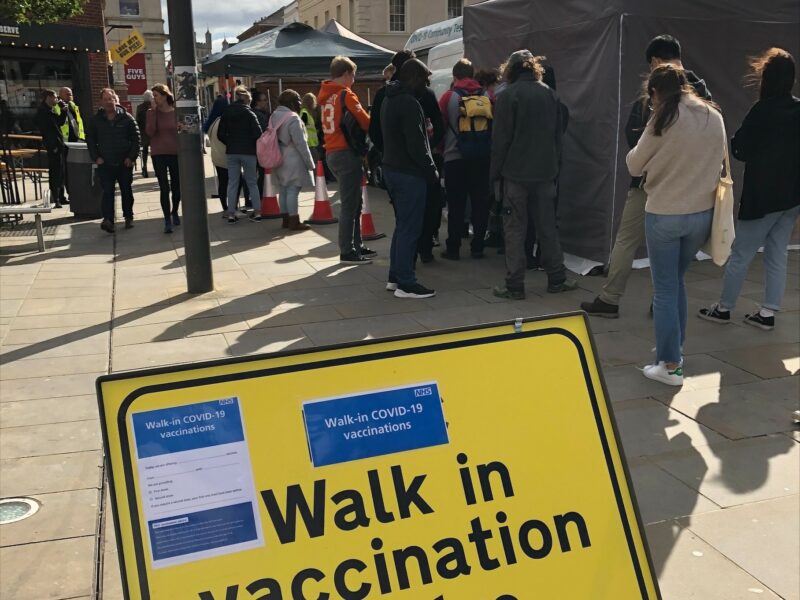 Exeter city centre was busy again this week as our pop-up testing and vaccination van stopped outside Exeter Central train station on Wednesday and Thursday.
Joining us this week was a team of people from the government, visiting to help us promote public health messages in Devon.
They went door-to-door in parts of the city and talking to people in the city centre about testing and vaccinations, and handing out helpful public health advice.
It's because our case rates have been so high. And although they've fallen, it's clear that the virus is still with us, especially in our younger school-age population.
Charlotte Pavitt is part of our Public Health team and was at the pop-up facility on Queen Street in Exeter. She said:
"We've had loads of young people stopping by to grab the vaccination. And our teams have been talking to hundreds of people on the doorsteps and in the city centre.

"A lot of people have just been going about their day with little thought to coronavirus, but with us being about and visible, it's really helping to remind people that we're still in a pandemic!

"It's so important everyone continues to play their part by getting fully vaccinated and continuing to regularly test."
Just by following a few easy steps, people can reduce their risk of catching and spreading coronavirus:
Get vaccinated as soon as you are eligible, and take the second one when you are due
Use rapid, lateral flow tests twice a week, if you are asymptomatic. If it's positive, arrange a PCR test and stay home pending the result
If you are meeting friends, try to see them outside or in well ventilated, quieter places
Wear a mask if you are indoors in busy places, and on public transport
Our pop-up testing and vaccination vehicle also visited Ilfracombe this week on Friday and Saturday, and we'll be visiting more places over coming weeks. Keep an eye on our website and social media channels for updates.