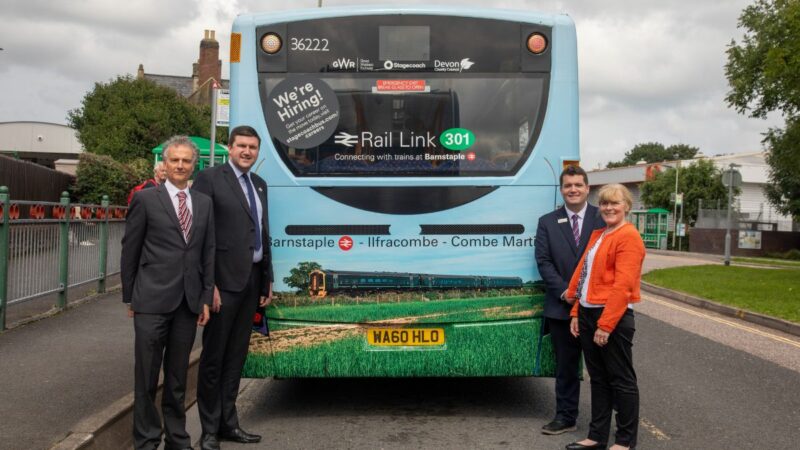 The Stagecoach 301 bus service has received a frequency uplift to hourly following additional support from us, through our Bus Services Improvement Plan funding from the Department for Transport.
The Stagecoach Rail Link service connects Combe Martin with Barnstaple via Berrynarbor, Watermouth Castle, Hele Bay, Ilfracombe, Muddiford and North Devon District Hospital.
The service, which we subsidise, offers a vital transport link from rural North Devon villages into Barnstaple and Barnstaple Railway Station. Buses provide access to work, education, health, shopping and leisure in North Devon's largest town, as well as great days out for passengers wanting to visit Ilfracombe, Combe Martin or attractions such as Watermouth Castle.
Working in partnership with us, the Stagecoach service will now operate 11 trips Monday to Saturday between Combe Martin and Ilfracombe with buses serving Barnstaple Railway Station for onward connections both arriving and departing Barnstaple.
The service is one of a number of Rail Link services across the country, designed to provide smooth bus and rail interchange opportunities. The initiative, which we're leading locally with Stagecoach and GWR, sets out to make successful integrated and sustainable transport links across the region. Working together to offer more multi modal journey opportunities, the organisations hope to help communities across the region switch to greener public transport.
Stagecoach has also unveiled two buses kitted out in a special livery design courtesy of GWR to promote the Rail Link connections. The buses now feature a distinctive new design, brought to you in partnership with GWR, to raise awareness of their integrated services.
The 301 bus timetable is designed to connect seamlessly with trains departing Barnstaple Railway Station for Exeter, providing onward journey opportunities to Devon's capital city. Passengers are offered a ten minute connection time, with train departures advertised within the bus timetable.
Passengers departing Combe Martin can reach Ilfracombe in 30 minutes, North Devon District hospital in an hour or Barnstaple town centre in an hour and ten minutes.
Buses depart Combe Martin from 0710 in the morning, with the last bus back at 1735, or from Barnstaple the first departure is at 0635, and the last returning journey at 1810.
Stagecoach Managing Director Peter Knight said: "We are delighted to offer more journey opportunities to rural communities across North Devon in partnership with Devon County Council. Projects such as these improve sustainable access to a variety of services and help boost businesses in the local area. We welcome the opportunity to work on further initiatives with the Devon County Council and GWR teams to link areas across Devon to the wider rail network."
Councillor Andrea Davis, Cabinet Member for Climate Change, Environment and Transport, said:

"The increased frequency of these bus services in North Devon again illustrates how our close working with Stagecoach and GWR is ensuring better public transport options for passengers. We're pleased to be able to support these bus service improvements which provide integral links to rail connections while also accessing essential facilities in Barnstaple."
Luke Farley, GWR Transport Integration Manager, said: "Good connections between rail and bus enable passengers to travel further and explore more destinations. We're very proud of our partnership with Devon County Council and Stagecoach which sees trains and buses brought closer together across Devon."
Roads Minister Richard Holden said: "People up and down the country deserve a modern, reliable, and affordable public transport system. That is why we have provided Devon County Council with almost £16 million to boost its bus services. Supporting the Council with increasing the frequency of the vital 301 bus is great for local residents, who will now be able to get around for less and make the most of the fantastic days out Devon has to offer."
Where can I visit on the 301 route?
With the summer holidays in full swing, the 301 route connects you to a number of great days out across North Devon:
• Barnstaple is the largest town in North Devon, situated on the River Taw. The ancient town is home to the Queen's Theatre, Museum, a variety of shops on the High Street and a historic Pannier Market. Just next to the library in the town centre, the remains of Barnstaple Castle can be found- a main feature of the town during Norman times.
• Ilfracombe is located on the South West Coast Path, and is home to stunning beaches and coves including the famous Tunnels Beaches. The town features a picturesque historic harbour, quaint pastel coloured houses, plus the famous statue Verity by Damien Hirst which surrounded by dramatic cliffs. There are also great places to eat, several art and craft galleries, independent shops, and activities for all.
• Hele Bay is a sand and shingle cove just a few minutes by bus from Ilfracombe. The bay is next to the Hillsborough Nature Reserve and you'll find rock pools on both sides of the beach at low tide.
• Watermouth Castle brings the past to life with animated scenes, a model railway and mechanical musical instruments! The family theme park features a dungeon labyrinth, Mighty Mortier Water Show, Gnomeland and panning for gold alongside a variety of fantastic rides. The castle is set in a beautiful natural valley with breath taking views of the superb North Devon Coast.
• Combe Martin is situated between Exmoor National Park and the North Devon Area of Outstanding Natural Beauty. The village has two beaches; the main harbour and Newberry beach, both home to excellent rock pools. Kayaks and paddle boards are available for hire to explore in the safe water of the bay. Sea fishing is also popular from the bay, with course fishing nearby too.
• Combe Martin Wildlife Park is a family run park set over 28 acres within the North Devon Area of Outstanding Beauty. The park is home to wolves, sea lions, African lion, penguins and more. The park also hosts life sized animatronic dinosaurs and the fantastic Dinosaurus Playzone.
How much does it cost?
There's never been a better time to give the service a try; with bargain prices available onboard. Bus users currently pay no more than £2 for a single journey with the cap on single fares still in place until end of October 2023. If you're planning to travel more than twice a day, then Stagecoach's value day tickets offer unlimited all day. If you're travelling with family or friends, then buy a group ticket and pay for only two people.*
To plan your next trip simply pop your current location into the Stagecoach online journey planner or app, type your destination in the where to box, and they'll do the rest!
(* Stagecoach South West Group tickets allow unlimited travel for up to five people across the day in the chosen zone. On average the price of the group ticket is equivalent to the price of two adult day tickets, pricing in some zones vary, information correct at time of writing, subject to change.)