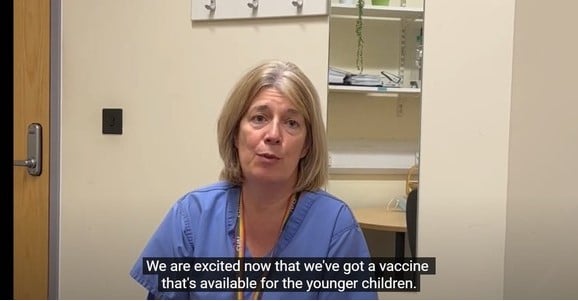 Children aged five to 11 years old who are clinically at risk from coronavirus, or who live with someone who is immunosuppressed, are now eligible for a lower, paediatric dose of the COVID-19 vaccine. 
Two leading paediatricians have recorded a short video explaining that the paediatric dose of the vaccine, which has been approved by the Joint Committee for Vaccinations and Immunisations (JCVI), is safe, and that it is being used widely in this age group in other countries.
Eligible children include those with diabetes, immunosuppression, learning disabilities, and other conditions such as chronic heart or kidney conditions. 
Featured in the video, Dr Corrine Hayes, says:
Having the vaccine will help protect the most vulnerable children and their families from COVID-19. If you have any concerns, please talk to your GP or consultant, we're always happy to help." 
And Dr Emily Chesshyre, says:
"I want to reassure children and their parents that this lower dose has been approved following a robust safety review and that many children elsewhere in the world have already been safely vaccinated." 
Children who are eligible will be contacted by their GP or the local NHS inviting them to book an appointment. This group is not currently able to book through the national booking system.