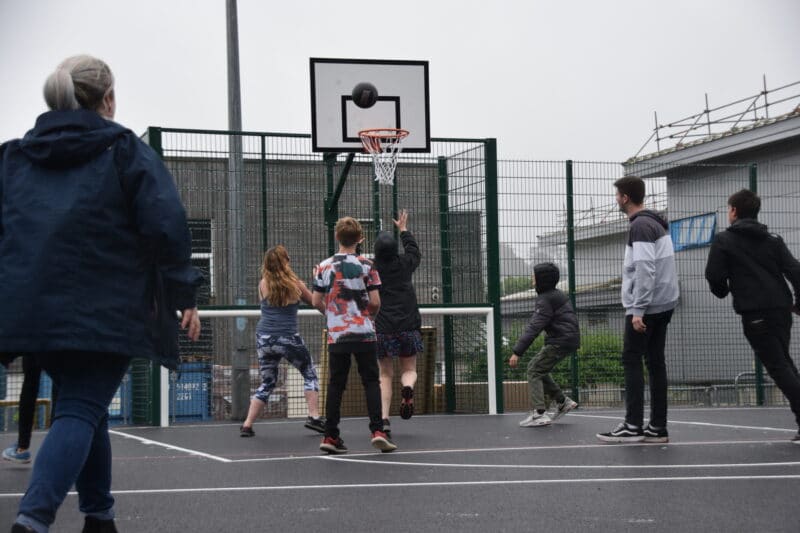 A new Multi Use Games Area (MUGA) has opened at The Station youth centre in Wain Lane, Newton Abbot.
Young people attending the centre have been involved with its design and are excited about the opening.
Josh, 15, volunteers at the youth centre.
"The MUGA is going to be extremely helpful for our youth centre as it creates a safe outdoor space where young people like myself are able to express themselves freely.

"It is an opportunity to build on teamwork and build confidence, and it will also encourage young people to develop new skills and enjoy new experiences while helping their physical and mental wellbeing.

"I speak for everyone when I say how excited we are for the opening. This includes my friends, other young people and the staff."
And Oliva, 13, said:
"Having the MUGA at The Station will give us more opportunities and a place to be active. It will mean we have a safe space to do sports and fitness. We can also use the space to relax, chill and get outdoors. And it's free!"
The previous games area was old and unusable, and the service needed the additional outdoor space.
"We saw the importance of safe, welcoming outdoor areas for young people, particularly during the coronavirus pandemic," said Kev Henman , CEO for SPACE, which runs the youth service on behalf of Devon County Council.

"Young people need affordable locations like this all the time. The new MUGA includes space to play a whole range of sports and games that young people of all backgrounds and circumstances will benefit from."
We have funded the new play area.
Councillor Roger Croad, our Cabinet Member with responsibility for the youth service, said:

"We're pleased to fund the project because we know how much young people will benefit from it. Having a safe outdoor space for friends to gather is really important.

"I know that it will be enjoyed and well-used by young people of all abilities to try out new sports and games, develop new skills and build confidence."