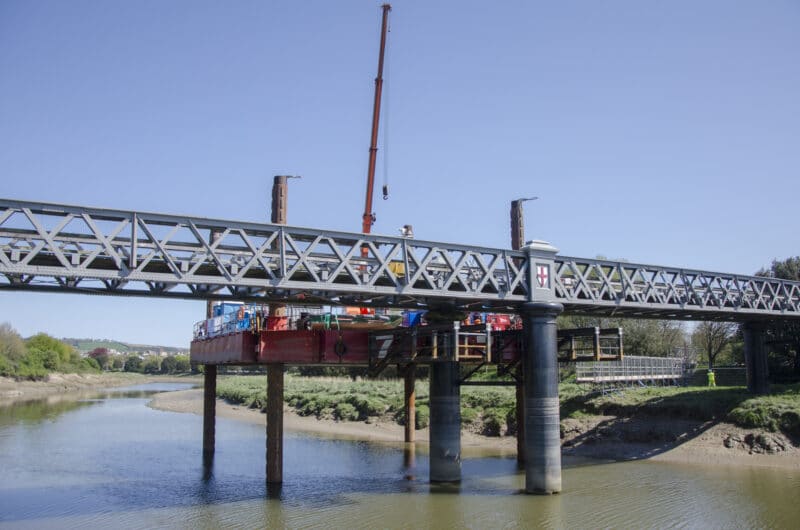 The Rock Park Bridge in Barnstaple is set to reopen this summer after repair work began this week.
The work, which was delayed after the original contractor went into administration, will take around 13 weeks in total – and should mean that the bridge will reopen in time for the peak summer season.
A large jack-up barge will be used to support Rock Park Bridge while underwater strengthening work is carried out to its two "in-water" columns by specialist divers.
It follows a recent detailed survey of the riverbed, called a bathymetric survey, which has shown that the water is deep enough for the jack-up barge to be used.
The former railway bridge has been closed for safety reasons since May 2020 after a routine dive inspection discovered holes in one of the columns.
Both columns will be strengthened by bolting on 'steel-jackets' – these jackets will extend down to the riverbed and will protect the columns for many years to come.
The jack-up barge will support the bridge while divers install these protective jackets. The barge will also serve as the base for a large crane that will be used during the repair work.
The main contractor is Dyer & Butler supported by their Devon based sub-contractor Teignmouth Maritime Services with a provisional completion date for the works in July.
Councillor Stuart Hughes, Devon County Council's Cabinet Member for Highways Management said:

"I am aware there has been a lot of local concern about the length of time it has taken to repair Rock Park Bridge, but this project has been beset with challenges outside of our control, not least the original contractor going into administration and more recently the impact of the storms in March that delayed the availability of the jack up barge.

"Now that we are on site people who visit the area will see the massive scale of operation required to ensure the safety of the divers who will be carrying out the strengthening works below the waterline.

"We are taking the opportunity to provide extra protection to both of the in-water column, not just the damaged one, so as to ensure their resilience for many years to come.

"The timber bridge deck will also be refurbished to provide a better running surface and ensure the bridge can enjoy many years of maintenance-free use."
The local County Councillor for Barnstaple Councillor Caroline Leaver said:

"Like many residents in Barnstaple I have been very keen to see repair works start, we have all missed being able to use it and I'm delighted the work has started.  "It's part of the strategic National Cycle Network, and it's vital to the county and district councils work to encourage active travel. This is a vital link between Newport and Seven Brethren for pedestrians and cyclists travelling to school, work, and for leisure purposes and with the opening of the new Leisure Centre next month, the bridge's reopening will be hugely welcomed.  I want to thank the Bridge's Team, contractors, and the members of the public I represent including The Save Rock Park Bridge campaigners and the Northern Devon Cycling who have been very clear in their desire to see the bridge re-opened as soon as possible. I look forward to our once again being able to cross the Taw with ease."
The local County Councillor for Barnstaple North, Councillor Ian Roome said:

"I'm looking forward to the Bridge reopening and I'm hopeful that will be at the end of June going into the start of July.  However, as always with repair work, particularly work conducted underwater, there are always uncertainties that could lead to delays. The Bridge's Team at Devon County Council will continue to keep the public informed of progress with further updates."