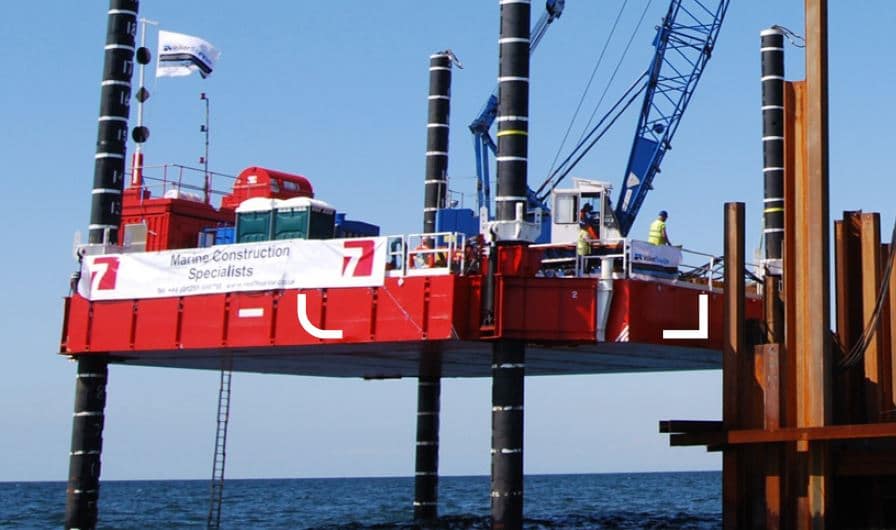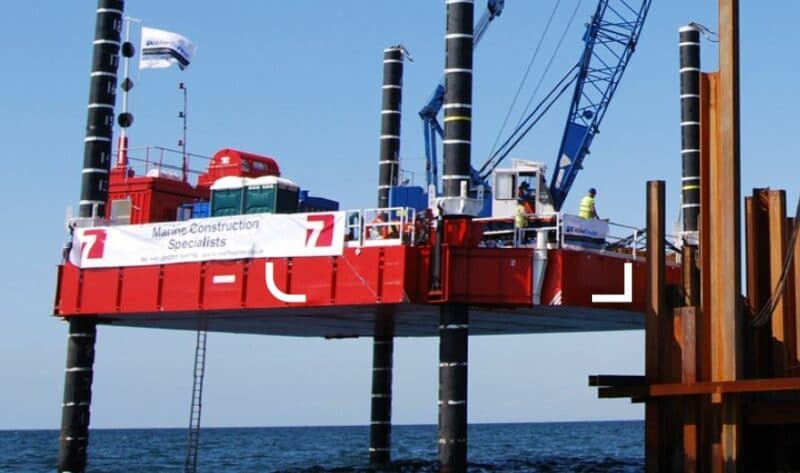 A large jack-up barge will be used to support Rock Park Bridge in Barnstaple while underwater strengthening work is carried out to its two "in-water" columns.
Although the start date of the repair scheme is yet to be confirmed, we're planning for the barge to be brought to the site early in the new year.
It follows a recent detailed survey of the river bed, called a bathymetric survey, which has shown that there is sufficient water depth for the jack-up barge to be used.
The former railway bridge has been closed for safety reasons since last year after a routine dive inspection discovered holes in one of the columns. However, strengthening work will be carried out on both columns in the river channel to provide future resilience as the largest element of the scheme cost will be the temporary works, including the barge.
Steel jackets will be bolted around the columns below water level; these jackets will extend down to the river bed to ensure the columns are provided with long term protection.
The jack-up barge will support the bridge while divers install these protection measures and will also serve as the base for a 100 tonne crane that will be used during the repair work.
Councillor Stuart Hughes, Cabinet Member for Highway Management, said:

"Our engineers have signed off the scheme designs so the strengthening work can get underway as soon as the jack-up barge is available to be brought to site. They're a rare item of plant and they're moved from job to job, which is why we can't provide an exact date as yet but we're looking forward to finalising a date soon and hope to start work early in the new year. In the meantime, we have been made aware that people are scaling the barriers and crossing the bridge and we're urging people to refrain from doing this. We have closed the bridge on safety grounds and people shouldn't be putting themselves at risk."
Councillor Caroline Leaver, County Councillor for Barnstaple South, said:

"It is really good news that we are being promised that work will start soon on the Iron Bridge, after it has been closed for such a long time. Like many residents I have spoken with on both sides of the river, the Iron Bridge is a really important route across the Taw. It has been really frustrating that it has been closed for so long, particularly during the pandemic and following an earlier closure for repainting. Since having been elected as the County Councillor for Barnstaple South in May this year, I have pushed for action on this and had regular meetings with Devon County Council staff. I am very happy that it now looks as though work will start early in the new year. Many people have told me about how they have used it in the past for getting to work, for shopping and as part of their regular exercise. It is a strategic link in the National Cycle Network, and important for kids getting to school as well as for the many people locally who want to use it for clean and active travel. I am already looking forward to us all being able to use this really important cycle and pedestrian link again. It cannot happen soon enough."
The repairs at Rock Park Bridge have been delayed after the original sub-contractor responsible for the scheme design went into administration. A new design consultant was appointed earlier this year to progress the scheme and local Devon based contractors will carry out what is a major engineering operation.