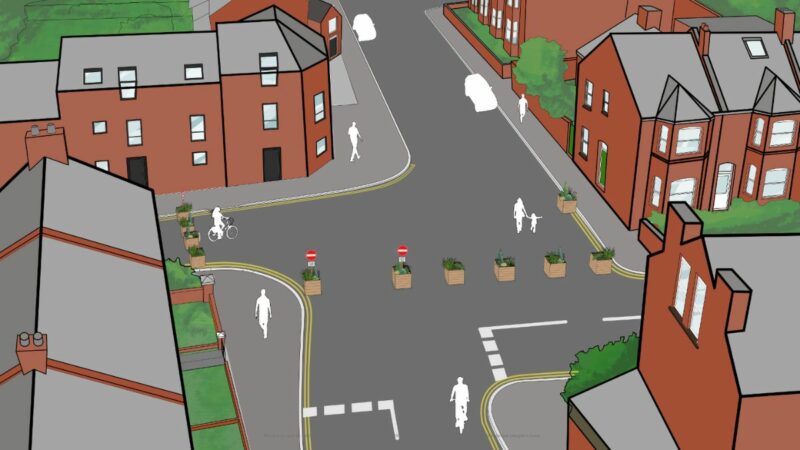 The Heavitree and Whipton Active Streets trial, which aims to reduce traffic in Heavitree and Whipton's key residential areas, began today, (Thursday 3 August).
It follows two information sessions which were held last week and visited by more than 900 people, with many asking questions and providing comments.
More than 2,000 vehicles travel along many of the local residential streets each day, deterring people from cycling or walking. The trial scheme aims to create a safer and more attractive environment for people walking, wheeling and cycling.
It will involve physical 'modal filters' (bollards or planters) and bus gates being placed at five locations in the Heavitree and Whipton area, on Ladysmith Road/Park Road, St Marks Avenue, Hamlin Lane, Whipton Lane and Vaughan Road.
The first six months of the trial, between now and 2 February 2024, will be a statutory consultation period where members of the public are invited to provide feedback on the changes.
Their views will be considered when the time comes to decide whether the scheme should be permanent.
The consultation will be carried out through an online consultation form on our dedicated webpage, devon.cc/exeterstreets.
If you are unable to access the web form, you can request a paper copy of the consultation form by:
Telephoning 0345 155 1004
Writing to 'Transport Planning, Devon County Council, Room 120, County Hall, Topsham Road, Exeter, Devon, EX2 4QD'
Alternatively, written responses can be provided by writing to 'Director of Legal & Democratic Services, County Hall, Topsham Road, Exeter EX2 4QD', quoting reference imr/DEV001/458, or emailing exeterstreets@devon.gov.uk.
The trial will run for up to 18 months, but may be amended or abandoned during this timescale. Implementation of a permanent scheme would require a further committee approval, considering statutory consultation feedback and traffic monitoring data.
This trial follows two previous phases of public consultation, and approval from members of the Exeter Highways and Traffic Orders Committee.
In advance of the trial, two public engagement events, at Park Life Heavitree and Whipton Community Hall, were attended by over 900 people. Further events are planned during September, with details to be provided at devon.cc/exeterstreets in due course.
Councillor Su Aves, Devon County Councillor for St Sidwells and St James including part of Heavitree, said:

"I want to thank everyone who attended our information events, who asked questions and gave verbal feedback.

"I recognise that many local residents do want to support this trial going ahead, whilst many others have expressed their concerns and do not support the current design. That is why we will be trialling it to see how it works in practice.

"As councillors we want to make the whole area a safer and less congested environment for everyone, especially in the rush hours and during school drop off and pick up times which is very stressful for so many.

"The hope is that overall there will be fewer journeys by vehicle, even though some individual journeys will be longer. This will mean a reduced volume of harmful vehicle emissions overall. This will encourage more people to walk and encourage those who are not confident at cycling to try it.

"Please take part in the consultation and share your experiences of this scheme so that we can make decisions as to what is best for the community overall."