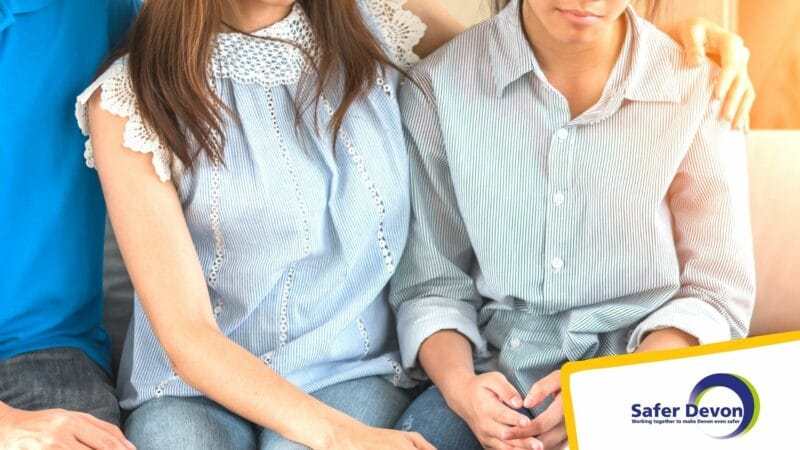 An online series of free webinars starting next month aim to help parents and carers understand and support their teenagers to navigate the challenges they might face as they grow up in today's world.
'Let's Talk Teenagers' is a three part webinar for parents and carers of teenagers or pre-teens. The sessions cover different subject areas starting with communities and family life (March 8) and followed by respectful relationships (March 15) and building stronger families (March 22), all at 7pm.
It's the result of a Devon partnership of professionals and local networks that work together to keep children and young people safe, support parents who are struggling and reduce crime and antisocial behaviour.
The course is delivered by parenting experts Emma Stephens and Chloe Hosegrove from the Safety and Resilience Consultancy.
Emma said: "This course will help parents understand the kind of issues that their teenager may be experiencing, from things like anxiety, peer pressure or body image to drugs, alcohol and sex. It helps parents to identify the signs that their teenager may be experiencing issues, but also provides lots of helpful tips and advice about how to have open conversations or broach particular issues.

"The course is aimed at anyone who wants to better understand their teenager and the world they are growing up in, and how they can support them to navigate the challenges they might experience. Parents can get involved and ask questions, or just sit with a cuppa and listen in – and you can sign up for all three sessions, or just one! It really is up to you how you want to use the sessions."
The 'Let's Talk Teenagers' project is part funded by the Safer Devon Partnership in partnership with the South Devon Community Safety Partnership, the Office of the Police and Crime Commissioner, and Devon County Council, and Teignbridge Council, and is open to parents and carers from across Devon.
Darren Allcorn, Chair of the Safer Devon Partnership, which is part funding the event, said: "Parenting and supporting teenagers is really tough and the partnership has worked hard to produce sessions that not only raise the awareness of those challenges but give positive guidance about how to help.

"These free webinars are funded through a number of local partners, as we really want to invest in empowering parents, guardians and grandparents to support their teenager through the challenges they are being faced with every day.

"We think that this course can prevent things escalating or becoming harmful and be positive for the whole family. It's aimed at raising awareness of risks as well as offering guidance on how to connect with your child."
The 90 minutes sessions will be delivered on Teams, and a free booklet will accompany the webinar, which will be sent out to delegates after the event. Find out more or sign up for the webinar.