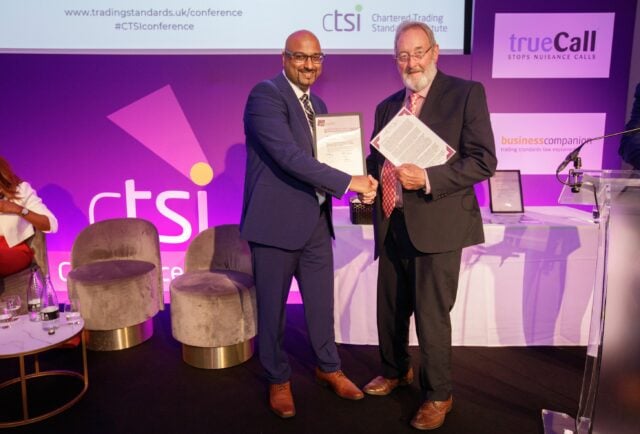 Congratulations to our colleague Fakir Mohamed Osman, Head of the Heart of the South West Trading Standards, and Chair of our DCC Race Equality Staff Group, who has become a 'Fellow' of the Chartered Trading Standards Institute (CTSI).
Fakir received his award at an award ceremony at CTSI's Annual Conference, Trading Standards' flagship event which was held this year in Birmingham. The event provides opportunities for networking and continuing professional development for those working across consumer protection and regulation from across the whole of the UK.
Fakir has been made a CTSI Fellow for recognition of his work in Trading Standards locally, regionally and nationally – by going the extra mile for the profession and leading projects which have had a significant impact on individuals, communities and organisations.
Fakir said:
"I am the first person of the Muslim faith and first ethnically diverse member from the south-west to be awarded a fellowship.

"I want to pay tribute to all the great staff, I have had the pleasure of working with over the last 20 years "
Steve Brown, Director of Public Health, Communities and Prosperity, said:
"When Fakir told me he had been awarded a fellowship I was so pleased for him. Being awarded a fellowship is just reward for all the hard work, dedication and leadership Fakir has given to Trading Standards over many years."
Fellows represent Trading Standards and consumer protection professionals working in a range of sectors – including local councils, businesses and not-for-profit organisations. – and are united in an ambition to protect consumers and help to achieve a level playing field for business.
Find out more about our Heart of the South West Trading Standards Service on the website.