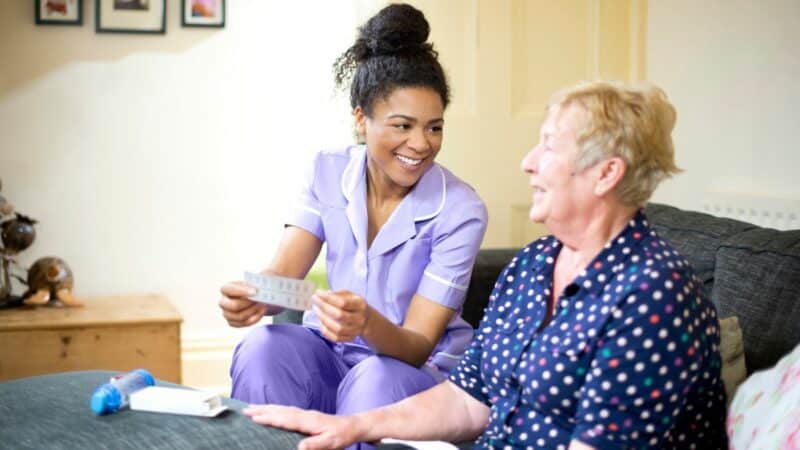 The first care workers employed in a recruitment campaign targeting trained and experienced individuals overseas are arriving in Devon.
We are working with the Devon Alliance for International Recruitment and with Torbay and Plymouth Councils in a recruitment drive to help plug the significant shortage of experienced care workers in the county.
There are around 30,000 people employed in adult social care in Devon, and there is a vacancy rate of around 10 per cent.
Cllr James McInnes, our Cabinet Member with responsibility for adult social care, said:

"Too few care workers means that care providers are unable to provide enough care to enough people.

"As a consequence, people are waiting longer to receive social care. Some are at home waiting for care, at risk of losing their independence.

"Others are held up in hospital, well enough to leave but waiting for onward social care to be available to them at home or in residential care.  That's preventing hospitals from being able to admit new patients, extending waiting times and delaying medical attention for people when they need it."
NHS Devon recently reported that they've deployed over 600 hospital nurses and other staff from overseas within 15 months to work in hospitals, to cope with growing demand. And now, in an extension to that programme, nurses and care workers are being recruited to work in care homes and in a range of community services.
It follows a move by Government to relax the rules on employing people from abroad, considered to be in 'shortage occupations'.
"Our target had been to recruit around 175 people from overseas, but we have had more than 1,000 applications so far, so we're now hoping to appoint around 250 people over the next few months, with a view to them staying for up to five years," says James McInnes.
The close relationship between care workers and the people they care for means that language is an important consideration when recruiting. So, the Devon Alliance has set a requirement for candidates to have a higher standard of English language than the national minimum level.
So far, around 60 care providers, in residential care homes and domiciliary care, have expressed interest to us in employing the overseas staff.
"We're talking to care providers who have expressed interest about how they could also support those care workers with accommodation," said Cllr McInnes.
Up to 50 of the new recruits are arriving over coming weeks, with more arriving in a phased way throughout January and February.
"By helping care providers to fill vital care worker vacancies, we want to reduce how long people are waiting for social care, and by doing so help the NHS hospitals with the timely and safe discharge of patients.

"We recognise this won't solve the whole workforce shortage but it's another way we can manage the situation and we are now well placed to benefit from a £15 million fund the Government is launching to support this work nationally."
Tracey Collins the alliance's International Nursing Workforce Lead, said:

"This is potentially a game changing pilot demonstrating the beauty of collaborative work, breaking down barriers and sharing best practice to ensure our patients and clients receive the right care in the right place.

"It will be a unique opportunity to develop our integrated approach for international recruitment across the health and care system in Devon, working across all of our partners and providers for the benefit of local patients and clients.

"The alliance has been supporting the NHS with the recruitment of nurses from overseas over the past year having deployed recently its 600th nurse through a low-cost clinical model of international recruitment.

"Our aim is to develop a prototype for international recruitment across Social Care, NHS and Local Authority, paving the way that will potentially influence local and national policy across Integrated Care Systems."
To find out more about current vacancies and opportunities to work within social care in Devon, or for a confidential conversation about the job to suit you, please visit our Proud to Care website, www.proudtocaredevon.org.uk.