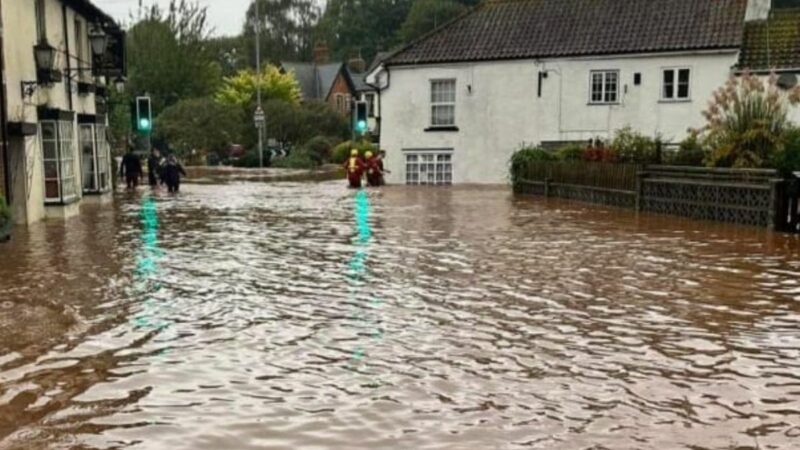 Communities impacted by the recent flash floods are being supported with a series of drop-in sessions over the coming weeks.
Initial investigations have found that more than 200 homes were flooded during the torrential rainfall on Sunday 17 September. As part of the ongoing flood recovery effort, we're working with East Devon District Council, Exeter City Council, South Hams District Council, Teignbridge District Council and the Environment Agency to organise community engagement events.
The drop-in sessions will be held at:
Victory Hall, Kenton – Tuesday 3 October, 3:15pm-7:15pm
Matthews Hall, Topsham – Wednesday 4 October, 2pm-7pm
A third session is also being arranged to be held at Harberton Parish Hall – date to be confirmed.
People in communities near the venues are invited to attend to session nearest to them (Exeter and East Devon residents to attend Topsham and Harbertonford residents to Harberton).
The drop-in sessions will be an opportunity for residents to speak directly to teams involved in the flood recovery operation. They will be able to provide information on the flooding in their community and to discuss flood resilience measures with staff from all of the authorities and agencies in attendance.
The following agencies will be in attendance at the drop-in session and can help with –
Devon County Council
– Flood Team: Production of Flood Investigation Report, Property Flood Resilience, Ordinary Watercourse regulation, consideration of future flood improvements.
– Highways: maintenance and clearance of drainage systems and road surfaces.
East Devon District Council / Exeter City Council / South Hams District Council /Teignbridge District Council
– Housing issues.
– Waste collection and street cleaning.
– Advice on financial support that may be available.
The Environment Agency
– Flooding linked to 'Main Rivers' or the sea.
– The flood warning service for flooding from Main Rivers and the sea.
– Flood risk assets on Main Rivers.
– Land use management, remedial works and longer-term management.
– Repair works and flood risk activity permitting requirements on Main Rivers.
Councillor Roger Croad, Cabinet Member for Public Health, Communities and Equalities, said:

"A number of communities have been hit incredibly hard by these flash floods, but residents have been really supportive of each other. All of the councils and agencies are working closely on the response to the flooding and these drop-in sessions are an important part of that process. I would encourage people that were impacted by the floods to come along and speak to the staff at these events. You can help our teams gain an understanding of the issues facing your community so they can assess what can possibly be done to reduce future flood risk."
Councillor Gary Taylor, Teignbridge District Councillor for Kenton and Starcross, said: "The extent of last week's flooding was devastating for many communities across the County – including in Dawlish and Kenton, where the impact on homes, services and businesses will be felt for some time to come. Whilst local councillors and council teams, service partners and the local communities all took swift action to support those affected, the unpredictability, scale and intensity of the storm resulted in significant damage to some homes and properties, and also to the primary school in Kenton. These kind of weather events are likely to be more regular, unpredictable and extreme, so these drop-in sessions are designed to help local communities affected by the flooding recover, and talk about what can be done to protect homes and businesses in the future."
Councillor Phil Bialyk, Exeter City Council Leader, said: "As we are all aware, the threat of flooding is one that is a reality for many communities, and occurrences are unfortunately becoming more common. These drop-in events are a great way for residents to access the information they need and talk to a range of agencies about this issue, and I would urge residents who have any concerns to attend and find out what support and advice is on offer."
Councillor Julian Brazil, Leader of South Hams District Council, said:

"Everyone at South Hams District Council was upset to see the damage caused by the floods at Harberton, Harbertonford and other communities in the South Hams. The response to the floods has been a united effort across the county and we will be supporting affected residents in any way that we can. Please do come to the drop-in sessions, as they could provide some valuable assistance or information."
Anyone who would like more information should email floodrisk@devon.gov.uk.
Residents are being advised to check if their property is at risk of flood and find out if they are eligible to sign up for a FREE flood warning. Follow @EnvAgencySW on X (formerly Twitter) for the latest flood updates or visit: Check for flooding – GOV.UK (www.gov.uk).