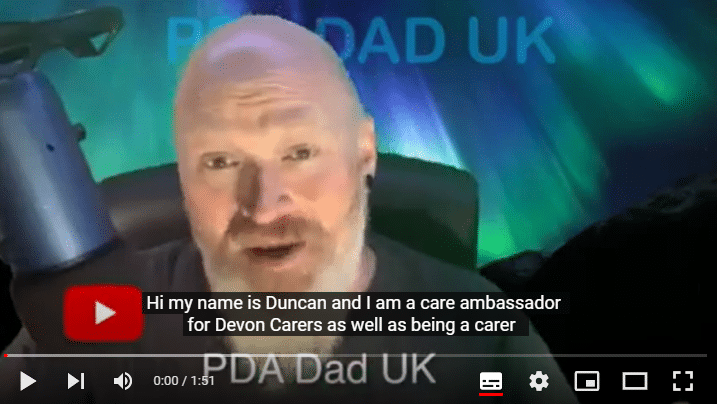 Duncan is a carer. He lives in Devon. He's a carer for his wife and daughter and he's been double vaccinated against coronavirus. He's a superb care ambassador for Devon Carers, and a brilliant talker.
"I'm double jabbed, and the reason I'm double jabbed is because, as a carer, I'm the linchpin when it comes to looking after my family. Without me, it all falls apart.

"When you go on a plane and they say, 'if the oxygen mask drops, put your mask on first and then put it onto anyone your caring for', the reason for that is because if you're out of the picture, who's there to help the person you're caring for?

"This translates into everyday life. As somebody who's looking after someone else, if you're not there, they're going to suffer. That's why something like COVID can have such a dramatic effect.

"People are sometimes concerned about adverse reactions or side effects, but the reality is there's so much more risk not having the jab than there is having it.

"Side effects are temporary, but we've got things like Long COVID and stuff like that now, so you need to make sure you're about, because you're so important.

"I think that's what gets forgotten. You're important, you really, really matter.

"Now there's freedom, but also the knowledge that we're not going to get knocked out by this virus in the same way as if we weren't vaccinated.

"It's so important, so please go out if you haven't done so already, get your jabs. If you haven't got your second one yet, go get it. Book it. Let's beat this together.

"Stay strong and good luck."
Do you look after someone who relies on your help?
Would you like to have your COVID-19 vaccination but have difficulty leaving those you care for?
You can get help to organise your vaccination through the Devon Vaccine Support Team, including arranging your vaccination at a time to suit you, fast tracking your appointment to get you home more quickly or arranging transportation.
To find out more please email d-ccg.devonvaccinationsupport@nhs.net or call 01752 398836