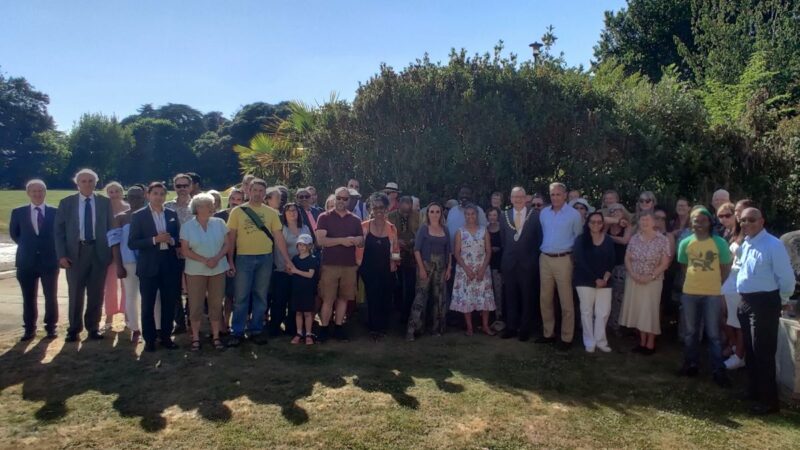 The Devon Windrush flag has been raised above County Hall tonight to mark Windrush Day, 74 years after the Empire Windrush arrived at Tilbury docks and its passengers began a new life in Britain.
The flag raising was attended by members of the Celebrating Windrush in Devon group, who designed the flag, our Chair Ian Hall, and Chief Executive Dr Phil Norrey.
Windrush Day is an opportunity for people to recognise the contribution of Caribbean immigrants from countries including Trinidad and Tobago, St Vincent, Guyana, and Jamaica and the role they played to help rebuild a devastated and war weary Britain.
The Celebrating Windrush in Devon group is part of Devon Development Education, based at the Global Centre in Exeter who, through education, home learning, cultural events and community activities, is Devon's focal point for those interested in exploring the links between our lives and those of people from around the world.
Chair of Devon County Council Ian Hall said:


"The UK is a country that has been improved and significantly shaped by migration and the Windrush Generation and their children and grandchildren have made a notable and positive impact.

"From 1948 British Rail and London Transport for instance recruited almost exclusively from Jamaica and Barbados while the NHS would not have been able to meet Britain's health needs without the contribution of people from overseas.

"West Indian women were invited to train here as nurses and by 1955 there were recruitment agencies in 16 British colonies. Even today, that tradition continues.

"And I think it is a fitting moment to also pay tribute to the many health and social care staff who during the Covid-19 pandemic lost their lives, a pandemic that disproportionately affected staff from African, Caribbean and South Asian backgrounds.

"We have much to thank them for."
Anne, a member of the Devon Windrush Group, said:

"Being part of the Devon Windrush group gives a feeling that the members matter to one another and to the group. Thank you to DDE for all their hard work and support and providing the platform to help the group share their stories."
Faye Doris, Retired Associate Professor of Midwifery and a member of the Devon Windrush Group said:

'Windrush Day is a day of acknowledging heritage, reflecting on our arrival and the contributions that we have made to the United Kingdom – and sharing this with colleagues. Some of our richness, the stories, the food, the music, will be displayed today and through our other planned celebrations this year."