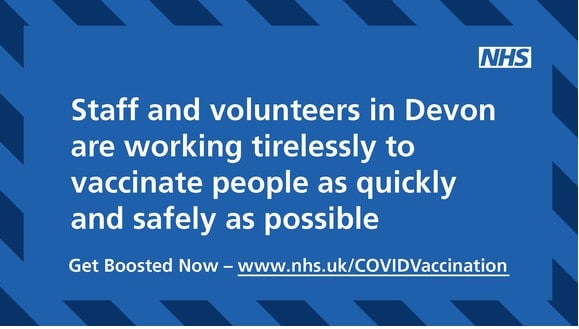 The NHS in Devon is rising to the challenge of offering every adult in the county the COVID-19 booster vaccine by the end of December as quickly and safely as possible to try to limit the impact of the Omicron variant.
They've increased the opening hours and days of operation of their vaccine sites (with some open until 2.00am!), opening up additional GP and pharmacy sites, and increasing the number of walk-in and pop-up sessions.
Recent data suggests that the effectiveness of the COVID-19 vaccine against symptomatic infection is substantially reduced, especially with the Omicron variant, with just two doses, but a third dose boosts protection back up to over 70 per cent, so it's important to have.
Additional appointments are regularly being added to the national booking service and demand is high so the advice is to be patient, but persevere and keep checking back. Please do not phone your GP about vaccinations – they will contact you if needed, and they cannot help with national booking service enquiries.
Drop-in/pop-up clinics will be advertised through media and social media
when they are available and when sites have availability. Follow Devon's Clinical Commissioning Group (CCG) on Facebook, Twitter and Instagram.