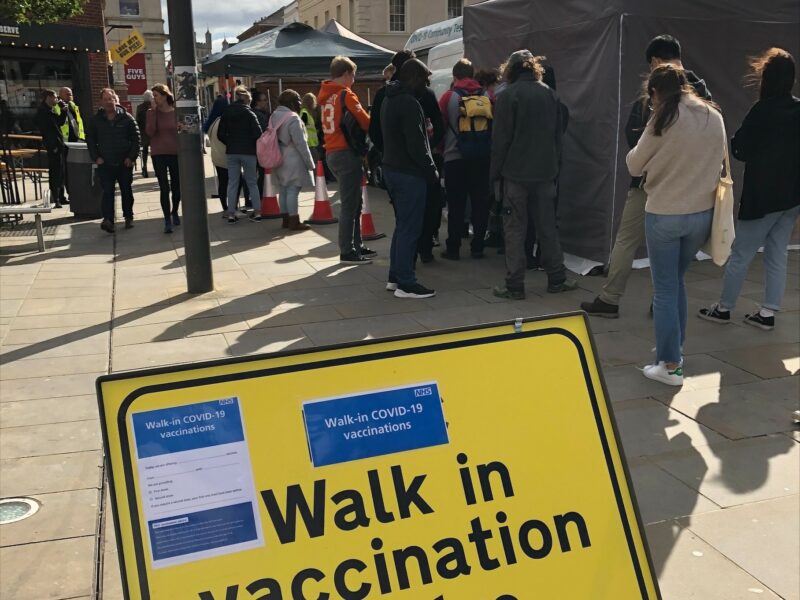 Our community testing team, which has been delivering a mobile lateral flow testing service, as well as COVID-19 vaccinations, to local communities across Devon since January 2021, will change its operations from 1 April.
The government's 'Living with COVID-19' plan will see the end to universal access to free lateral flow and PCR tests for most people at the end of March.
Our outreach vans will continue to support the vaccinations programme, alongside NHS Devon colleagues, across the county.  But the availability of free lateral flow tests from our vans will stop on Thursday 31 March.
PCR testing sites in Devon, run by the Department for Health, will close on Wednesday 30 March.
Public Health experts say that testing is still an important tool for tracking coronavirus. National studies such as the Office for National Statistics Coronavirus Infection Survey, and PCR testing in clinical settings to support treatments, will continue, and these will help to identify new variants and track background community rates.
While there will no longer be access to free lateral flow tests from Friday 1 April, Public Health Devon hopes that people will continue to use up the tests they currently have, 'to greatest effect'.
Steve Brown, Devon's Director of Public Health Devon, explains. 

"If you have a supply of tests at home, please consider taking a test before visiting older or vulnerable friends or relatives, or before visits to GP surgeries or to hospital."
Lateral flow tests will to be available to buy from local pharmacies and online. And PCR tests will continue to be free for care home residents, hospital patients and other vulnerable groups, if they have symptoms of coronavirus.
But Devon's Trading Standards service is reminding people shopping online for lateral flow tests to look out for scams, and to know who they're buying from.
Janet Quinn, from Heart of the South West Trading Standards Service, said:
"Only order lateral flow tests from a pharmacy. Do not get them from any other sources.

"The NHS, government or Public Health Devon will never send text messages or emails with a link inviting you to purchase a lateral flow test.

"If you receive such a message or see such an offer, these are from fraudsters who are trying to access your money or personal information. If you click the link, depending on the scam, you may unwittingly download malware or viruses and could give them access to your internet passwords.

"If you receive a suspicious text, forward it to 7726 or an email to report@phishing.gov.uk and then delete it."
You can order lateral flow tests from the government's website until 23.59 hours on Thursday 31 March.