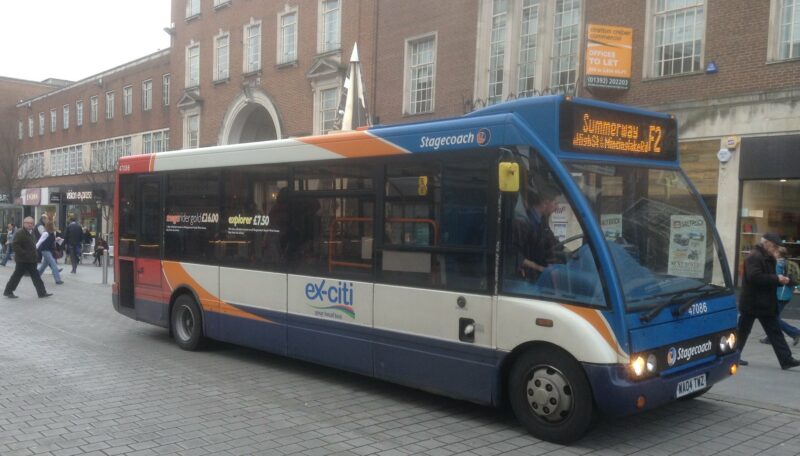 An acute shortage of bus drivers has led transport provider, Stagecoach, to reduce the frequency and operational day of some bus services in Exeter.
Our Transport Coordination Service has been working with Stagecoach to seek reassurance that there would be enough capacity on peak-timed buses, across the network.
It follows a period of instability for public transport, with bus passenger numbers in Exeter dropping to 10 per cent during the first lockdown of 2020, compared to pre-coronavirus pandemic levels.
Passenger numbers have rallied, and have fluctuated to be around 70 per cent of the pre-pandemic levels.
But the feeling by some in Exeter is that Stagecoach is not providing the service that the public needs.
This week, a special meeting of our Exeter Highways and Traffic Orders Committee (HATOC), invited Stagecoach's Managing Director for the region to attend the meeting to explain to the committee what's going on.
Mike Watson said that the company needs 55 additional drivers in Exeter, but that 70 people are currently being recruited.
He said two-thirds of drivers had left the company because of the long hours and shifts, and that they had recently addressed this by reducing the number of evenings and weekends drivers work.
The committee heard that 92 per cent of Stagecoach's Exeter services are running, down from the usual 99.5 per cent.
But Mr Watson added that it's 'quite traumatic for a lot of people when eight per cent of the buses don't turn up'.  "That's something that I do take very seriously," he said.
Councillor Rob Hannaford, who called the special HATOC meeting, said:

"This is the first time I think in many years that we have called a special HATOC meeting. I think that it is in reflection of the seriousness of the situation of buses and public transport in and around Exeter.  I don't think it's too strong a word to describe this as a bus crisis in Exeter."
Cllr Hannaford also questioned Mr Watson's 92 per cent of services running' statement. 
"It certainly doesn't feel as if 92 per cent of the services are around Exeter," he said.

"We need to clearly reflect and give voice to the sheer exasperation, anger and fury of bus users in and around Exeter at the current appalling so-called service. It's quite dreadful.

"It isn't working for the passengers. I don't think it's working for the drivers, and it certainly isn't working towards our climate change and carbon reduction strategy."
Mr Watson explained that most of its Exeter fleet are cleaner diesel engine vehicles, and that outside London there aren't many electric fleets, especially in the south west. He said that the company would need additional funding to help it buy electric, but that it is trying to improve its electric charging infrastructure at its depot in Marsh Barton.
The cross-party HATOC thanked Mr Watson for attending the meeting, but concluded that the current bus service in Exeter is 'not fit for purpose'.
Committee members also resolved to ask the Council's Cabinet to press for a bus franchise arrangement, which it feels should be explored as a way of improving the quality of the services provided.