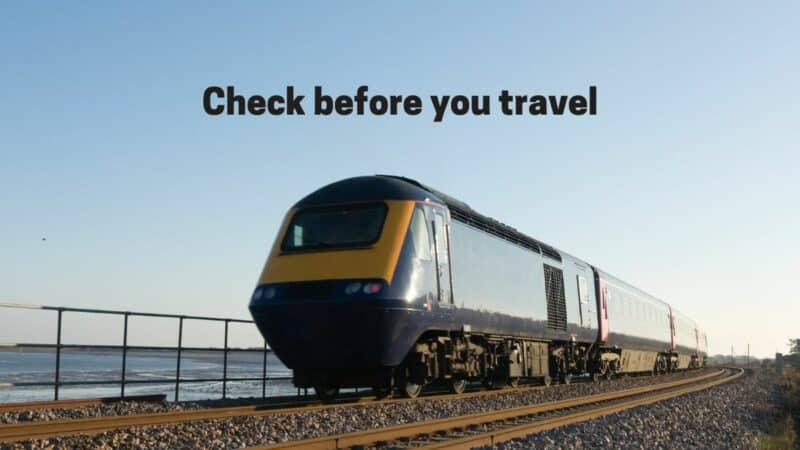 Railway Trades unions have announced strikes and industrial action, over December and January that will affect rail services from Saturday 24 December 2022 to Sunday 8 January 2023.
We are expecting Devon's roads to be busier than usual during this period, so please follow Devon Alert on Twitter or Facebook for the latest traffic and travel updates from our Network Control Centre.
Rail services will be very busy with last trains departing much earlier. Only travel if absolutely necessary and Great Western Railway (GWR) advise you to complete your journey by lunchtime. Check before you travel, and if possible consider making your journey on another day.
GWR say tickets for 24 December can be used on either Wednesday 21, Thursday 22, Friday 23 December or up to and including Thursday 29 December.
Please note that there will be significantly fewer trains in Devon and the last services on each route are as follows:
London Paddington to Plymouth/Totnes – 1C80 1204 dep, 1444 TOT arr, 1512 PLY arr.
London Paddington to Exeter/Newton Abbot – 1C82 1304 dep, 1515 EXD, 1536 NTA
Plymouth/Totnes/Newton Abbot/Exeter. 1A86 1314 PLY, 1341 TOT, 1353 NTA, 1415 EXD, arr 1631 PAD. (this is last service PLY – EXD)
Exeter – Ivybridge – Plymouth. 2C73 1332 EXD, 1425 IVY, 1440 PLY
Plymouth – Ivybridge – Exeter. 2U20 1250 PLY, 1303 IVY, 1350 EXD
Plymouth to Gunnislake – 2G81 1424 dep, 1510 arr.
Gunnislake to Plymouth – 2G82 1514 dep, 1600 arr.
Plymouth to Penzance – 2C73 1443 dep, 1640 arr.
Penzance to Plymouh 2E92 1420 dep, 1615 arr.
Bristol to Exeter St Davids – 2C79 1455 dep, 1625 arr.
Exeter St Davids to Bristol – 2U20 1353 dep, 1516 arr.
Exeter Central to Barnstaple – 2B79 1414 dep, 1525 arr.
Exeter Central to Okehampton – 2K09 1433 dep, 1515 arr.
Exeter St Davids to Exmouth – 2F22 1516 dep, 1549 arr.
Exeter Central to Paignton – 2T21 1421 dep, 1524 arr.
Barnstaple – Exeter St Davids – 2R88 1535 dep, 1641 arr.
Okehampton – Exeter Central – 2R59 1525 dep, 1604 arr.
Exmouth – Exeter St Davids – 2T25 1555 dep, 1627 arr.
Paignton – Exeter St Davids – 2F25 1539 dep, 1631 arr.
There will be no trains Christmas Day and Boxing Day (as normal), followed by a reduced timetable from Tuesday 27 December until Tuesday 3 January. There will be further strike action until Monday 9 January.
Please refer to the GWR strike information on their website to plan your journey before travelling, especially if you are relying on last trains which may be subject to short-notice alterations or cancellations.