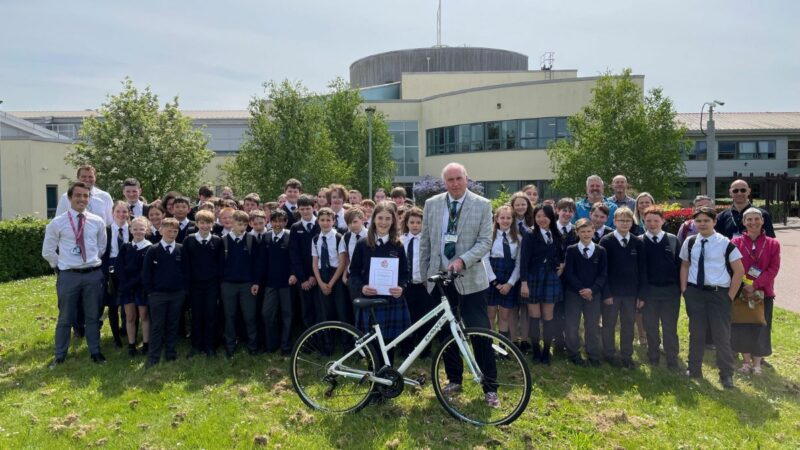 We have been named among the top ten local authorities for providing Bikeability cycle training for Year Six school pupils over the past year.
New figures from the Bikeability Trust show that cycle training across the country is reaching more children than ever before, with almost 462,000 children receiving training between April 2022 and March 2023.
In Devon, Bikeability training was delivered to more than 8,500 or 71% of Year Six pupils across the county during that same 12 months. That puts Devon in the top ten alongside the likes of Lancashire County Council, Leeds City Council and Plymouth City Council.
Councillor Stuart Hughes, Cabinet Member with responsibility for cycling, said:

"It's an honour to be among the top ten authorities in the country for delivering Bikeability training. It takes a huge amount of work and dedication to achieve such impressive delivery figures and our thanks go to all of the team involved in making this possible. We must also congratulate all of the Bikeability trainees in Devon who have given themselves the foundations of a healthier, greener and more active lifestyle."
We have been delivering Bikeability in the county for 17 years. In that time, it has provided the cycle training to more than 100,000 young people.
Bikeability cycle training equips children with vital life skills, improving health and wellbeing and helping them get the most out of their classroom learning.
Bikeability Trust Chief Executive Emily Cherry said: "I'm so proud of the 461,887 children across England who can now enjoy the physical and mental health benefits of cycling, and will have the skills and confidence to be able to make more sustainable transport choices for the rest of their lives. Well done to you all, and huge thanks to our brilliant instructors and training providers across the country, who are so committed to teaching young people this essential life skill. And a special well done to our Bikeability superstars in the top performing areas."
Bikeability is confident that its record figures over the past year show that good progress is being made to meet the Government's manifesto commitment to offer Bikeability training to every school child.
For more information visit Travel Devon's cycle training webpages.