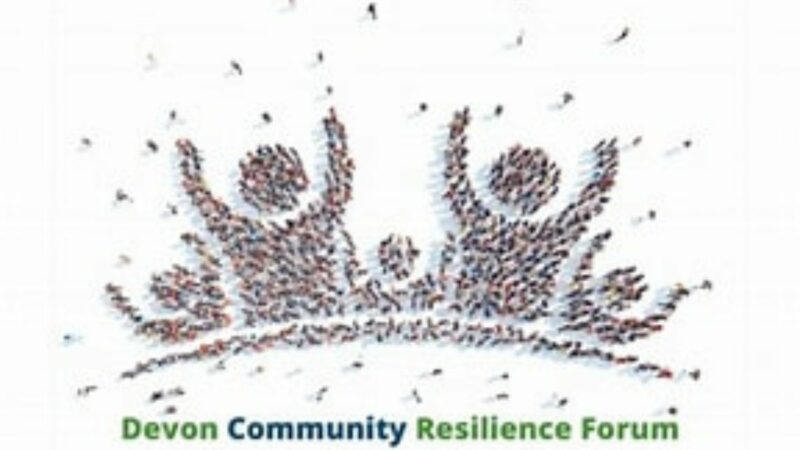 Communities in Devon are being invited to apply for funding to help them be better prepared for emergencies or unexpected events.
Independent charity Devon Communities Together is working with us and the Environment Agency to provide the funding opportunities.
This latest programme is financed by us and the South West Regional Flood & Coastal Committee local levy funding, and is administered by Devon Communities Together as part of its role in the Devon Community Resilience Forum (DCRF), whose core mission to help communities prepare for, and respond to, emergencies.
Scheme 1 – up to £250 for communities that wish to develop their own Community Emergency Plan
The Devon Community Resilience Board (DCRB) wants to encourage more communities to produce a Community Emergency Plan (CEP).
A CEP is a document which helps guide a community to organise a response to a local emergency; from flooding or snow to the completely unexpected. They ideally need to be updated every three years, however some communities in Devon either don't have a plan in place or are not sure how to put together a support document for their community. The aim is that by providing this funding, many more communities across the county will be able to put plans in place to ensure their resilience in case anything happens within their community.
Once approved and completed, the DCRB will upload a completed CEP to a secure government gateway. This enables emergency responders to combine local knowledge with their expertise, allowing an effective place-based, joined-up response.
Devon's communities can bid for this fund to help form their own Community Emergency Planning group.
Further guidance and support on creating the group can also be provided from the DCRF with in-person attendance from a Devon Communities Together Resilience Project Officer. https://www.devoncommunities.org.uk/grant-funding-emergency-flood-resilience
Scheme 2 – up to £1,500 for small scale works and resilience equipment (once a CEP is in place)
Experience has shown that a wide range of small resilience measures can make a real difference to communities. This funding is available to communities to improve their own resilience with equipment and small scale works, and may range from the provision of sandbag stores and other flood protection equipment, road signs, tools and personal protective equipment, to one off small scale works to reduce risk.
DCRF recommends that a Community Emergency Response Team defines its own shopping list to meet local requirements. Examples of resilience measures can be provided by the DCRF, other communities, or Devon County Council to help a Community Emergency Planning Group consider what might be best for a particular area.
Laura Dixon, Project manager at Devon Communities Together, commented: "The importance of having a plan in place in case of emergencies cannot be underestimated. It may feel like it is something that you might never need – and you might not. However, if you do need to help your community bounce back from an event that is out of your control, wouldn't it be great if you had something that could help you and your community straight away? Please get in touch or find out more if you want to be part of the resilience of your community."
Councillor Roger Croad, Cabinet Member for Public Health, Communities and Equality, said:

"The grant funding available through these two schemes aims to help communities to help themselves. Whether it's to enable them to draw up their own emergency plans or, if they already have a plan in place, to carry out small scale work or purchase equipment to reduce flood risk, it should enable communities to be better prepared if they have to respond to an emergency."
Kate Pearson, Flood and Resilience Advisor at the Environment Agency added: "Flooding is the most common and widespread natural hazard we face in Devon, and flood risk is only going to increase with a changing climate. The average cost of flood damage to a home is £30,000. The average cost of flooding to a business is £82,000. While the Environment Agency and local councils do everything we can to reduce the chance of flooding, it is a natural process and can never be eliminated. Use the grant to help your community be flood ready."
Success stories
Thanks to a DCRF grant, the Parish of Lynton & Lynmouth was able to buy a generator to power a community space in the event of a power outage, providing a safe haven for the local residents affected. The Clerk, Kevin Harris, sent this message once it had been received: "Just a quick note to let you know our fantastic new generator arrived this week THANK YOU!"
One representative from the Chardstock Eco Group recently commented on a grant that was awarded for a natural flood management pilot scheme in the Kit Brook catchment: "The work we will be able to undertake will mitigate the risk of flooding in Chardstock and may assist with reducing flooding in the Axminster area."
Finally, community representatives from Sampford Courtenay have experienced the value of a Community Emergency Plan. They activated their Plan during Storm Eunice last year and coordinated a response to a 48hr power outage in a local neighbourhood already identified as vulnerable in their plan. They opened a place of safety at the village hall to provide a place for residents to have a warm place to stay, with hot drinks and food. Arrangements were made for devices such as lamps, torches and mobile devices to be recharged at the hall during the day, or via power packs loaned by volunteers. They also facilitated transport and alternative accommodation to one resident who was unable to make their own arrangements, as well as undertaking twice daily checks at the properties where residents remained.
For more information on joining Devon Community Resilience forum, setting up a Community Emergency Group or applying for resilience funding, please contact Laura Dixon, Project Manager at Devon Communities Together, on laura.dixon@devoncommunities.org.uk.