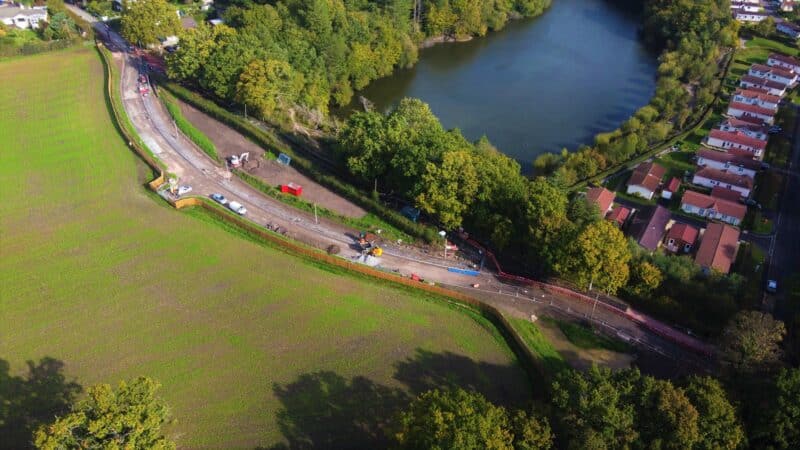 The Chair of a Bovey Tracey residents' group, who has been affected by the closure of a section of Ashburton Road, has praised county council engineers ahead of its imminent reopening.
The C229 road is due to reopen to traffic on Monday, November 21, – it has been closed to vehicles since February 2020 following a large landslip on the face of a former quarry.
The closure has affected the ability of local residents – particularly residents of New Park – to get to local amenities in the town centre.
Mr Colin Back, chairman of the New Park Community Association, said that while the closure had made 'life difficult', he understood the difficulties the engineers have had to overcome and thanked them for keeping residents regularly updated.
Mr Back, and other members of the Community Association joined county councillors and engineers on a 'walkabout' prior to the reopening of the road.
The walkabout, which included Devon County Council's Cabinet (DCC) Member for Highway Management Stuart Hughes, and local member George Gribble, was ahead of the work to realign a 200-metre section of the road.
Engineers and Councillor Hughes showed the residents the line of the original road, the changes that had been made, including a new hedgerow and fence line, and explained some of the difficulties that the team had encountered along the way.
Councillor Hughes said that public safety was 'paramount', and they had no choice other than to close the road to vehicles:
Councillor Stuart Hughes, Devon County Council's Cabinet Member for Highway Management said:

"I want to thank the residents, and I'm grateful for their patience", he said. "It's been a lot more complicated than just realigning a section of road. There was extensive damage to the highway and the area's extensive history of mining raised significant safety concerns over the stability of the ground beneath the road. We had to consider the very real possibility that there could be former mining tunnels and features beneath the surface."
He added that because the new route extends into Dartmoor National Park, they have worked closely with Dartmoor National Park Authority as well as landowners and utility companies.
All throughout the project engineers have been giving residents regular updates on the progress of the project.
Councillor George Gribble, Devon County Councillor for Bovey Tracey, said:

"I'm delighted that the road is finally going to reopen. It's been difficult to access local amenities and residents have had to drive an extra seven-miles as part of their round trip. I would also like to thank residents of New Park for their forbearance."
Chairman of the New Park Community Association Colin Back said:

"We are delighted with the reopening of Ashburton Road.

"The closure of this section for more than two and a half years made life difficult for the residents of New Park, our families, friends, support services and trades people. Thank you to the community of New Park for your patience and perseverance.

"We thank Meg Booth (DCC's Director of Climate Change, Environment and Transport) and engineers James Stanley and Elliott Flynn of Devon Highways for their support and keeping us up to date through regular ZOOM meetings and more recently with site meetings.

We appreciate some of the difficulties the engineering team have had to overcome to achieve this realignment. Well done!"