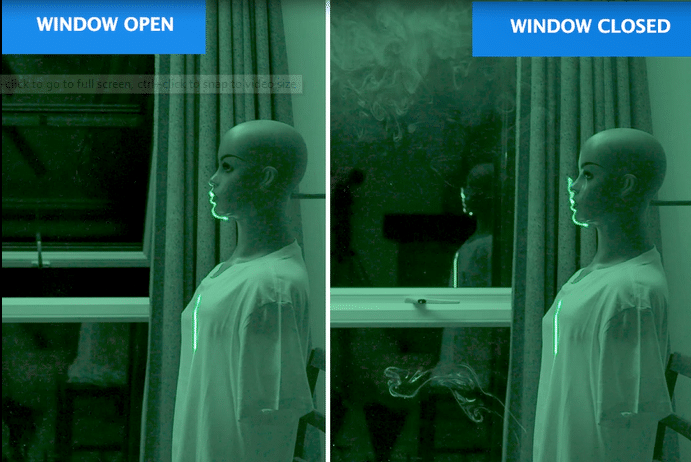 New research shows that nearly two-thirds of the public are not aware that ventilation is an effective way to reduce the spread of coronavirus in the home.
Just one in three are ventilating their home when visitors come over.
And only 3 per cent of people surveyed for the research continued to ventilate their homes for a period after their guests have left.
The government has launched a 'Stop COVID-19 hanging around' campaign to promote the importance of simple ventilation techniques to reduce the risk of catching COVID-19 this winter.
The campaign is running across digital channels, radio stations and newspapers, with a video released in collaboration with the government by scientists at Cambridge and Leeds universities.
The video shows the positive impact of reducing coronavirus levels indoors by opening a window for just 10 minutes every hour when socialising with others.
The film depicts someone with coronavirus talking with another person in a home setting, and the build-up of COVID-19 particles in the air. The particles linger in an unventilated room like smoke, increasing the risk for others to catch it. But the particles disperse quickly when good ventilation is introduced, even for a short period.
Steve Brown, Devon's Director of Public Health said:

"A lot is known about the science of coronavirus now, and how the airborne particles spread.

"This new campaign is helpful is highlighting the significance that such a simple step – opening a window or door – can have in reducing risk to ourselves and others.

"We cannot rely on the vaccine alone to see us through this pandemic.  We need to use all of the public health measure to stay safe.

"Ventilation is vital.  Meeting outdoors is best, but if meeting indoors, make sure the room is ventilated.  A window open for just ten minutes every hour significantly reduces the risk of those in the room.

"And we must also follow the other public health advice."
Take up the coronavirus vaccine when it's offered to you
Wear face coverings in public and crowded spaces, especially on public transport
Washing our hands properly and regularly
Regularly use rapid lateral flow tests, if not showing symptoms
Self-isolate and take a PCR test the moment you show symptoms
You can watch the government's campaign video on You Tube.