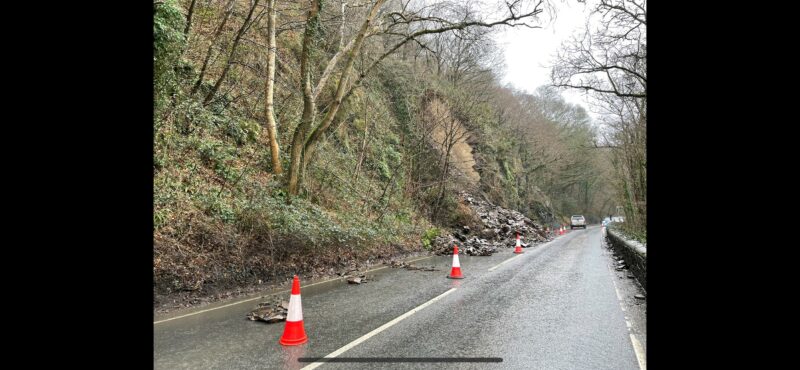 Motorists are being urged not to attempt to use A386 at Orford Mill, Torrington, after it was closed last Thursday when a landslip caused rocks and debris to fall onto the road.
The warning follows reports that over the weekend some motorists moved the road signs and drove through, putting themselves in danger.
The road remains closed in both directions and, following an inspection by geotechnical experts over the weekend, work to remove loose rock on the high bank began this morning.
Much of the high bank remains unstable and there is a real danger of rocks falling onto the road, putting any motorist or road user attempting to use the road at risk.
Once the loose rock is removed the condition of the rock face will be reassessed.
Councillor Stuart Hughes, Devon County Council's Cabinet Member for Highways Management said:

"Please do not try and use the road. There is a real risk of falling rocks, trees and vegetation and for the safety of road users the road will stay closed for now.
"We have added to the closure signs to prevent access.
"Clearing the loose rock is likely to take around 10 days but it is possible that more problems with the rock face will be uncovered, and it could take longer.
"Once cleared, we will inspect the bank again. This will give us a better understanding of the risk of a further landslip. We can then start to develop plans to stabilise the rockface.
"At this point we can't say how long the road will remain closed for but as soon as we know more, we will provide updates."
Councillor Andrew Saywell, the local member for Torrington Rural, said:

"Our engineers are working as fast as they can to reopen the road. Can I thank local residents and businesses for their patience while these works are carried out. We all want the road to reopen  as soon as possible, but safety is paramount and we don't yet know how long it will take to stabilise the bank. Rest assured though the road will be reopened to traffic as soon as it is safe to do so."

Diversions are in place.