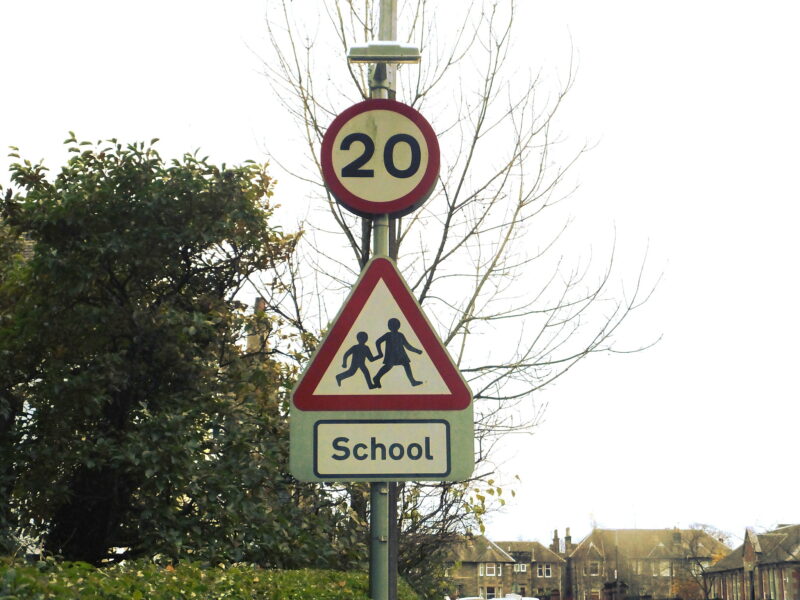 We're implementing new 20mph speed restrictions near Newton Abbot's schools and colleges to help ensure that pupils, students and staff can walk to and from school in safety.
Work to make changes, such as new signs and road markings on part or all of 16 roads in the vicinity the town's primary and secondary schools, starts in mid September.
Once we've completed the works part or all of the 16 roads will have 20mph speed restrictions during each school's drop-off and pick-up times.
The schools and colleges that will benefit are St Joseph's Catholic Primary School, Combeshead Academy, Decoy Community Primary School, Wolborough C of E Primary, Highweek Primary and Newton Abbot College.
The 20mph restrictions will be a mixture of mandatory and advisory speed limits, marked out with a variety of signs and road markings.
The times of the restrictions on each road will depend on the opening hours of each school in that road's vicinity and will be active for an hour before school starts and an hour after it closes.
The roads (of part of) that will have restrictions will be:
Coombeshead Road
Pitt Hill Road
Neville Road
Old Exeter Road
Knowles Hill Road
Netley Road
Abbotsbury Road
Waverley Road
Milton Road
Garston Avenue
Chelston Road
Bury Road
Fisher Road
Kingskerswell Road
Decoy Road
Keyberry Road
The scheme is fully supported by each educational facility and follows a consultation in 2021 on proposals for a town-wide 20 mph speed limit.
The results from the consultation clearly showed that this was not supported, with 79 per cent opposed – but responders to the same consultation also strongly supported (77 per cent) a scheme outside schools.
Sally Herbert, Headteacher of Decoy Primary School, said:

"Decoy children and families often arrive at school upset by a near miss that has happened on the journey to school. We actively encourage families to walk to school if they can and welcome the 20mph speed limits. We are hopeful that these measures will ensure that Decoy families feel safer as they walk or cycle to school and that others will be encouraged to do the same." 
Amy Grashoff, Headteacher of Newton Abbot College said:

"We welcome the 20mph speed restrictions coming into effect in mid-September as they will help ensure our students can get safely to and from college every day. 
 
"The current road setup and speed limit means there is a high volume of traffic moving quickly through the middle of our two sites, and up and down on Old Exeter Road, which increases the risk of an accident when you have 1400 students on roll who are arriving, moving between sites, and leaving at the end of the college day.  

"We are also keen for increased road markings to be put in place to make it clear where pedestrians have the right of way to make the roads around our site even safe for our students."
Councillor Stuart Hughes, Devon County Council's Cabinet Member for Highway Management said:

"I am pleased to say that from mid-September these limits will come into force.  

"We have worked closely with schools, local members and our road safety team and have identified areas that would most benefit from mandatory and advisory 20mph limits.

"I would like to thank all the headteachers and governors at each school for their contributions and I hope that safer vehicle speeds will give encourage more students and pupils to walk to school and to travel actively."
Councillor Janet Bradford, the local member for Newton Abbot South said: '

'Residents have been listened to and an expectation of slower traffic on roads near our schools must be a benefit for our children. Keeping our children safer in Devon is a priority." 
Councillor Phil Bullivant, the local member for Newton Abbot North said:

"Delivering a safer environment for children around our schools is welcome and follows the extensive consultation that took place considering the wider application of the 20mph options within Newton Abbot. 
"By focussing on areas around schools and applying restrictions tied into school hours will give drivers more encouragement to hold down their speeds during the critical times at school's opening and closing periods. It will also support greater walking and cycling by pupils."