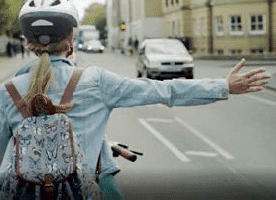 The Vision Zero South West road safety partnership has designed a quiz to make road users aware of new, important changes to the Highway Code.
The amendments, which were passed by Parliament on January 28, came into force on January 29 – meaning all road users need to be aware of the changes.
Most notably, the amended code introduces a new hierarchy of road users which gives those who have potential to cause the most harm – such as drivers of larger vehicles – more responsibility to reduce the threat posed to others.
Pedestrians – particularly children, older adults and disabled people – are identified as those most likely to be injured in the event of a collision.
Pedestrians sit at the top of the hierarchy followed by cyclists, horse riders, motorcyclists, cars, vans and large passenger or heavy goods vehicles.
As a result, the law places more responsibility on drivers to watch out for pedestrians, cyclists or horseriders.
Other major changes to the code include clearer and stronger priorities for pedestrians. Aimed at motorists, horse riders and cyclists, the code now states that, at a junction, you should give way to pedestrians crossing or waiting to cross a road into which you are turning. Previously, vehicles had priority at a junction.
Cyclists should give way to pedestrians on shared-use cycle tracks and are reminded that only pedestrians can use the pavement. Pedestrians are allowed to use cycle tracks unless there's a road sign nearby that says doing so is prohibited.
The code also now states that drivers and motorcyclists should not cut across cyclists when turning into or out of a junction or changing direction or lane. This rule applies whether the cyclist ahead is using a cycle lane, a cycle track or simply riding on the road ahead.
To help people remember the new rules, Vision Zero South West has created a quiz.
In Devon and Cornwall, 44 people were killed and 624 people were seriously injured in 2020 (the most recent official figures available). Of those killed or seriously injured, 196 were motorcyclists, 96 were pedestrians and 78 were cyclists.
Superintendent Adrian Leisk, strategic lead for road safety in Devon and Cornwall, also chairs Vision Zero South West's enforcement sub-group.
Superintendent Adrian Leisk, strategic lead for road safety in Devon and Cornwall,

"As an advocate for both road safety and sustainable active travel, I'm really pleased to see these latest changes to the Highway Code.

"Walking and cycling will become increasingly popular if people have the confidence that they are able to stay safe from harm. Unfortunately, these road users are also the most vulnerable to death or serious injury from drivers of motor vehicles.

"The new hierarchy sets out very clearly those who have most responsibility when it comes to reducing the risk of harm to these vulnerable road users."
Councillor Stuart Hughes is vice-chairman of Vision Zero South West and also Devon County Council's cabinet member for Highway Management.
Councillor Stuart Hughes said:

"All road users – whether they are in a car, riding a bike or simply on foot – need to respect one another and share the road.

"These changes to the Highway Code very easy to understand and I really hope people will take the time to familiarise themselves with the new rules.

"Vision Zero South West's entire purpose is to dramatically reduce all deaths and serious injuries on the roads of Devon and Cornwall – and while we do everything within our power to work towards that ambitious target, we can only achieve our aims with the help of all our residents and communities."
For more information about the recent changes to the Highway Code visit the Government's website.