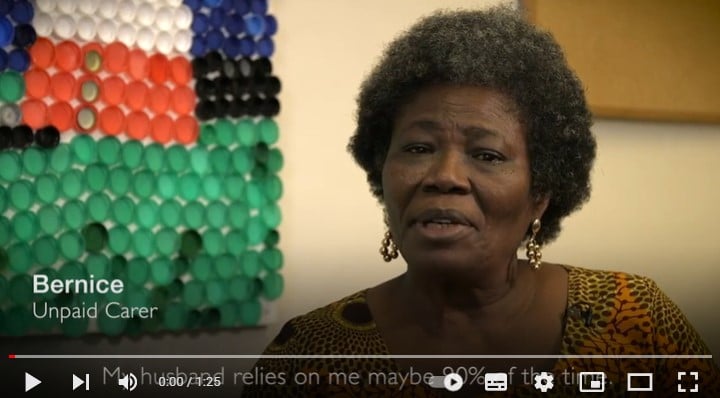 People who rely on you, rely on you to stay safe and well. It's a big responsibility, thinking for two people all the time. And yet it's instinctively what thousands of people in Devon are doing every day, all the time.
"My husband relies on me maybe 90 per cent of the time," says Bernice, from Plymouth. "If I pick out his clothes, he can still clothe himself, get into the shower, still wash himself. But if he falls down, I'll have to help him to get up. And I have to keep reminding him, so I'd say he relies on me about 90 per cent of the time."
With that responsibility comes realisation that your own actions determine the life of the person you care for.
You twist your ankle, and you'll struggle to help your husband to the bathroom. You get sick, and you won't be able to do the things the person you care for relies on you to do.
It's a simple equation.
Carers often put themselves second, behind the needs of the person they care for. Yet they mustn't.
You're no help to anyone if you're run down physically and emotionally. Taking care of yourself as a carer is not selfish, it's just essential for the sake of the person you care for.
That goes for having the COVID-19 vaccinations and booster too. Taking precautions that help keep you safe, means you're well enough to help someone else. And any temporary side-effect of the jab is far outweighed by the benefit of not becoming seriously unwell with coronavirus.
Bernice: "I would say to every carer who has thankfully already been jabbed, even when you've had a second dose, please go and have the booster.

"With all these new variants coming through, the booster actually protects you, and gives you a better protection.

"So please, please, go out there and get your booster. It is very important.

"We should try and do everything we can to stay alive and stay protected; protect ourselves, protect our loved ones that we care for."
You can make an appointment online, or by telephoning 119. Or find out where your nearest vaccination centre or pop-up vaccination site is to have the jab without an appointment.
As a carer, you're eligible for priority treatment. The Government has provided a letter for carers to take to their vaccination appointment, that means that you will be fast-tracked through any queue, so that you can return to your caring role as quickly as possible.
You can receive a copy of that letter, and other support that is available to carers, from Devon Carers. Contact their helpline on 03456 434 435 or email info@devoncarers.org.uk.
And if you need help to organise your vaccination, including arranging your vaccination at a time to suit you, fast tracking your appointment to get you home more quickly or arranging transport, contact the Devon Vaccine Support Team, by emailing d-ccg.devonvaccinationsupport@nhs.net or call 01752 398836.