Proposed New Zebra Crossing on A386 Appledore, Northam
Proposed New Zebra Crossing on A386 Appledore, Northam
Consultation is now closed. The Public Consultation Report is now available.
Introduction
Following the Government's announcement of the Active Travel Fund Tranche 4 in May 2023, Devon County Council seek to develop walking, cycling and wheeling schemes across the county.
Devon County Council are developing proposals for a new zebra crossing facility on A386 Appledore and held a public consultation from 26 May to 23 June 2023.
Consultation
We invited you to feedback your comments on the proposal which could be sent by:
The consultation closed on Friday 23rd of June 2023.
Improvements at Appledore Crossing, Northam
A new zebra crossing is proposed on A386 Appledore just up the hill from Kingsley Avenue as currently there are no crossing facilities in the area. This will provide a formal crossing point between Appledore Primary School and Anchor Park as well as other amenities in the area. The proposal also includes a new bus shelter at the bus stop, and widening of the existing footpath. However, to ensure good visibility at the crossing, 5 parking spaces on its approach will have to be removed.
The crossing will encourage people, particularly those traveling to the school, to make their journey on foot, reducing local journeys by car and benefiting their health and wellbeing.
Funding has been secured from the 4th round of the Active Travel Fund as well as from Section 106 contributions towards a crossing in this location from the Baker Estate development. Devon County Council aim to complete the final design after the public consultation and build the scheme in Spring 2024 (subject to the public consultation results and Cabinet approval).
Click here for a plan of the proposal, alternatively, it can be seen below.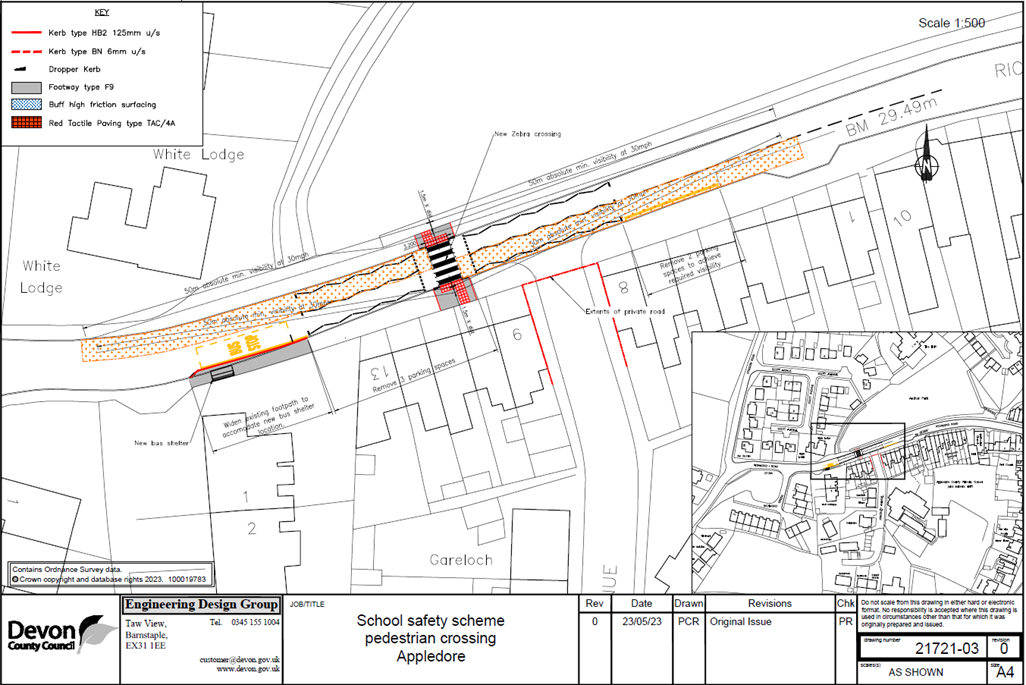 Documents
Accessibility
We take accessibility seriously and recognise that some of the information presented in the files available on this page may not be fully accessible to someone using assistive technology such as a screen reader.
If you need guidance or an alternative format, email transportplanning@devon.gov.uk with details of any preferred format and the assistive technology you use.
Contact information:
Address:
Devon County Council, Transport Planning, Room 120, County Hall, Topsham Road, Exeter, EX2 4QD
Email:
transportplanning-mailbox@devon.gov.uk
Phone:
0345 155 1015
From
26/05/2023
Until
23/06/2023
Results published
28/07/2023