Exmouth Active Travel Improvements
This Public Engagement has now closed.
Devon County Council is proposing to improve walking and cycling facilities in the area around Exmouth railway station. By encouraging more active travel, particularly for shorter journeys, we can help reduce congestion on our busy roads and improve connectivity across the town. This will also help reduce carbon emissions by encouraging people to use sustainable modes of travel.
As well as increasing footfall, and bringing benefits to local businesses, the proposals are also designed to make the area a safer, more welcoming, and more pleasant place for all.
Background to the proposals
These proposals form part of the Destination Exmouth project, which is funded by the Government's Levelling Up Fund, Devon County Council, East Devon District Council and Exmouth Town Council. The project aims to create an Exmouth Gateway – a transport interchange that enables people to travel across town by bicycle, on foot or by bus more easily, reducing the town's reliance on cars. Below is a concept drawing of the area, which was submitted as part of the original funding application and gives an indication of potential proposals we are looking at implementing.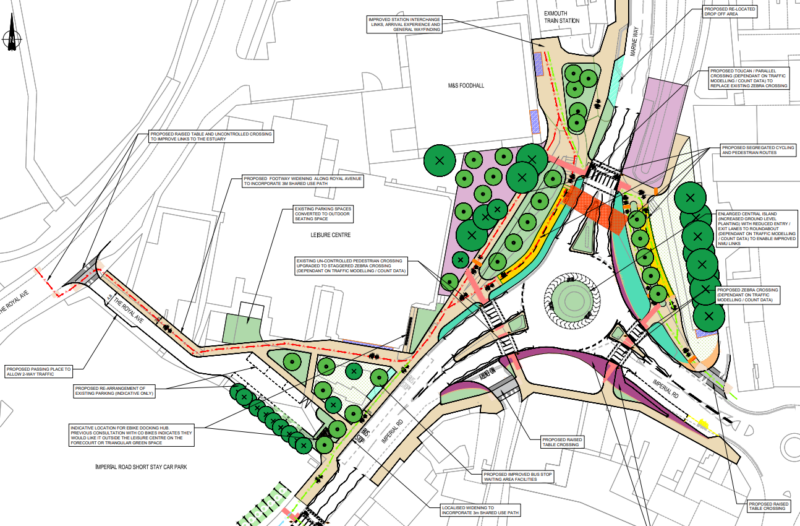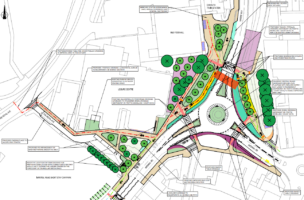 About the proposals
A range of improvements are being considered, including:
dedicated cycling space and wider footways to make it safer and easier to travel between the station, bus stop, estuary, town centre and seafront
safer, more convenient crossing points, including raised tables to encourage slower vehicle speeds
better signage, so travelling from the station to the town and seafront is more straightforward
electric vehicle charging and e-bike docking, making it easier to use green modes of transport
upgraded bus stop facilities for a better public transport experience
closure of the existing subway, with the removal of the access ramps providing space for these improvements
Have your say
This Public Engagement closed on Monday 21 August.
Please bear in mind that the funding we have received from central Government is specifically designed to help improve the area around Exmouth railway station, including making it easier to navigate on foot or by bike.
We held a public drop-in event on Thursday 27 July at LED Exmouth Leisure Centre. Members of the project team were available between midday and 4pm to answer your questions and to discuss your ideas for the area.
We are planning to hold a formal public consultation on more detailed and specific proposals later in the year.
Accessibility
We take accessibility seriously and recognise that some of the information presented in the files available on this page may not be fully accessible to someone using assistive technology such as a screen reader.
If you need guidance or an alternative format, email transportplanning@devon.gov.uk with details of any preferred format and the assistive technology you use.
From
19/07/2023
Until
21/08/2023