Clyst Valley Trail
A public consultation was held between Monday 9 May and Friday 10 June 2022 on the proposed Clyst Valley Trail route between West Clyst and Topsham.
Devon County Council and East Devon District Council are in the early design stage of the Clyst Valley Trail multiuse route which will connect Exeter with nearby towns and villages to the east. This attractive route will be accessible for all users and passes through historic parkland and river valleys.
The 13 km (8 mile) route will link Pinhoe in Exeter with the Exe Estuary Trail. The path will link 12,000 new homes and 10,000 new jobs in Exeter and East Devon, including Cranbrook. More than 40,000 people will directly benefit from the route.
Read a report detailing the consultation feedback.
Background of the scheme
The Clyst Valley Trail is listed as a high-priority route for delivery in the Devon County Council's multiuse trail strategy. It also delivers on Strategy 10 (Green Infrastructure in East Devon's West End) in the East Devon Local Plan, and the Climate Action plans of both councils. The route will significantly contribute to an increase in walking and cycling levels which will reduce our carbon footprint and help enable households to rely less on cars for short distance journeys.
The route will be a recreational trail for walkers, cyclists, mobility scooters and, where feasible, horse riders. As well as allowing people in and around Exeter to enjoy and value the wonderful countryside of the new Clyst Valley Regional Park and East Devon, it will also provide an attractive, safe, and direct commuter route between towns and villages along the River Clyst and Exeter, Cranbrook and surrounding employment areas in the Exeter and East Devon Enterprise Zone and Winslade Park.
The Clyst Valley Trail will be delivered in three sections. Devon County Council and East Devon District Council have been working together to establish the optimal route for the trail.
Proposed scheme
The detail of the proposed multiuse route is as follows:
Section 1 –West Clyst (Pinhoe) to Clyst Honiton
At West Clyst, near Pinhoe, the trail will link both these residential areas via a proposed toucan crossing at Moonhill Copse on the B3181. Heading south along Poltimore Way, the trail crosses the M5 motorway bridge on Mosshayne Lane.
Just west of West Clyst Barnyard, the trail will leave the existing lane and follow field edges and a scenic stream valley, creating a traffic-free route away from vehicles and farm machinery which presently use the lane. The proposal is to divert this section of the existing public footpath, giving walkers a more pleasant experience away from motor vehicles.  Here and in other sections, cyclists, walkers and horse-riders would be accommodated on a 3 to 3.5m wide surfaced trail, with a minimum of 1m buffer strip on each side of the path. The Public Right of Way will be maintained on Mosshayne Lane where the Trail re-joins near the railway bridge.
The trail re-joins Mosshayne Lane at the existing Network Rail bridge and continues south where it will meet the future proposed traffic free walking and cycle route connecting Cranbrook and Exeter. It then finally joins Blackhorse Lane for a short section up to the new toucan crossing at Blackhorse on the old London Road.
Section 2 – Clyst Honiton to Clyst St Mary
A recently constructed toucan crossing on the old London Road directs cyclists and pedestrians onto Sowton Lane.
The Lane terminates at Sowton Village and meets an existing public footpath through Sowton Barton Farm, which is very muddy in winter and brings users into possible conflict with farmyard machinery. It is therefore proposed that a short diversion of the existing public footpath around the farm to the east will remove these issues.
Heading south from the Farm the trail predominantly follows the route of the existing public footpath. A new bridge will be constructed across a tributary of the River Clyst before the trail reaches Frog Lane at Clyst St Mary. The existing foot bridge will remain.
Section 3 –Clyst St Mary to Exe Estuary Trail
The route through Clyst St Mary village is still under development and will be consulted on at a later date.
The trail crosses the A3052 using the existing toucan crossing which leads onto Winslade Park Avenue and heads west to the junction with the A376. This existing signalised junction will be upgraded to accommodate a new toucan crossing.
To the west of the A376 at Winslade Barton, the trail will continue on a raised boardwalk across the Grindle Brook and floodplain. The trail then follows a ridge line parallel to the A376 giving fantastic views over the river valley towards Topsham and Haldon Forest. This alignment keeps the trail out of the floodplain for much of its length and away from sensitive wildlife at Clyst Marshes.
The trail links to Darts Farm where it crosses Topsham Road via the existing toucan crossing after which users can follow the Exe Estuary Trail to Exeter or Exmouth.
Impacts and mitigation
Landowners
Several landowners will be directly affected by the construction and use of the trail. These landowners have been engaged from the outset and the scheme design has benefited from their local knowledge. The alignment accommodates their concerns where possible and negotiations are ongoing.
Existing public rights of way
In many areas, the trail follows existing Public Rights of Way or quiet lanes, and runs alongside existing field boundaries to limit any impact on landowners and the landscape. Existing Public Rights of Way that form part of the trail will be upgraded to bridleways. Where a diversion of an existing public footpath is proposed, representatives from Exeter and East Devon Ramblers Association have walked the route and the design has been adjusted to deliver a better experience for existing users.
Natural and historic environment
Care has also been taken to ensure that priority natural habitat is avoided. However, where it is not possible to avoid damage to habitat e.g. when the trail has to cross a hedgerow, habitat creation and/or restoration will ensure that a minimum 20% biodiversity net gain is achieved in the local area. Suitable approaches to avoid, mitigate and, as a last resort, compensate for habitat loss, or impact on protected species, will be demonstrated through the planning application stage, in order to meet local and national planning policy requirements.
The general topography in the area is flat or gently undulating agricultural land, with the River Clyst draining to the Exe Estuary. Consultations with the Environment Agency have been undertaken to ensure that negative impacts on surface and flood water flows, and water quality in streams and rivers are avoided or mitigated. This has been achieved mainly by elevating the trail on boardwalks or installing culverts to maintain current water storage capacity and flow rates.
Devon County Council Historic Environment have also been engaged as the design has developed. Known heritage features have been avoided wherever possible, however, the trail maintains an appreciation of the natural and historic environment and its assets. We have not commissioned an archaeological impact assessment at this stage of the proposal. This would come forward at planning application stage.
Climate change
Greenhouse gases will arise from the construction phase where the main contributors will be the production of trail surfacing material and the movement of material and equipment to and from the site. This will be mitigated by maximising the re-use of material on the site e.g. by creating ponds where soil has to be moved to raise the trail level, by using materials with high recycled content and good durability, and sourcing suppliers and waste facilities as close to the site as possible. Once the trail is open for use it will result in a permanent reduction in greenhouse gas and pollutant emissions by removing some motor vehicles from the transport network and reducing congestion.
Health, wellbeing and quality of life
This trail will provide a safer route for adults commuting to work and students getting to and from school. It will provide a healthy, attractive and interesting route for walkers, cyclists, horse riders and those with limited mobility and/or poor mental health. Disability representatives have been engaged during the design of the trail, to ensure the scheme provides a benefit to everyone's mental and physical health and create a nicer place to live and work.
Local transport network
The Clyst Valley Trail will be the backbone of the Clyst Valley Regional Park, and link local towns, East Devon villages and Exeter with an attractive, safe, and direct multiuse route.
The trail will be relatively well served by bus with West Clyst, Clyst Honiton, Clyst St Mary and Topsham all having several buses per hour from Exeter.
Pinhoe, Cranbrook, Digby Sowton and Topsham are all situated on railway lines, all within 2km of the trail.
There is gap in north-south provision for active travel between Blackhorse village and Clyst St Mary and the provision of this missing link will connect into the existing E9 Exeter Strategic Cycle route, providing access to the RD&E Hospital, County Hall and Marsh Barton, thereby helping to reduce car trips utilising M5 J29 and M5 J30.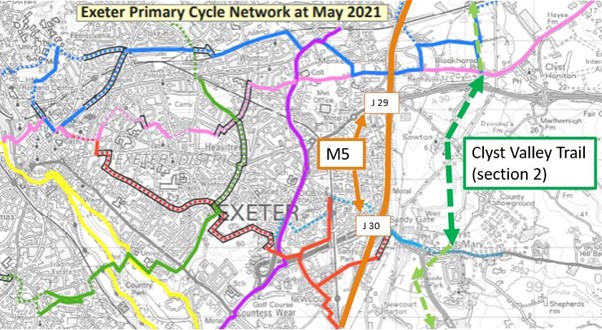 Summary
The proposed Clyst Valley Trail will:
provide a strategic multiuse connection between the Exe Estuary Trail/ Topsham, the nearby villages of Clyst St George, Clyst St Mary, Sowton, Clyst Honiton, Cranbrook and Pinhoe
promote recreation and leisure trips to East Devon with increased access to the natural environment and support for local tourism, accommodation, recreation, and food/drink businesses
promote sustainable travel as an alternative mode of transport, providing health and well-being benefits to local communities and supporting carbon net zero aspirations
provide public access to the Clyst Valley Regional Park in a way which conserves and enhances the environment, whilst limiting adverse impacts.
Find out more
An online webinar was held for this consultation, which featured a presentation on the scheme followed by a question and answer session. The presentation of the event was recorded and can be found here.
The below documents were designed for printing purposes only.
View our frequently asked questions here.
Accessibility
We take accessibility seriously and recognise that some of the information presented in the files available on this page may not be fully accessible to someone using assistive technology such as a screen reader. If you need guidance or an alternative format, email transportplanning@devon.gov.uk with details of any preferred format and the assistive technology you use.
To request a paper copy of the consultation leaflet:
Email us at transportplanning@devon.gov.uk
Write to us at Transport Planning, Devon County Council, Matford Offices County Hall, Topsham Road, Exeter, EX2 4QD.
The consultation closed on Friday 10 June 2022.
Have your say
The feedback to the consultation is currently being analysed and a consultation report prepared.
What happens next
All feedback received will be summarised and a consultation feedback report will be published onto this webpage during the summer.
Based on your feedback, we will refine the proposals for the Clyst Valley Trail route, to ensure all users get maximum benefit. We will then seek approval to progress the scheme from Devon County Council's Cabinet and East Devon District Council's Strategic Planning Committee.
From
09/05/2022
Until
10/06/2022
Districts covered
East Devon
Exeter