Bus Services Improvement Plan (BSIP) in North Devon
New Bus Lane in Roundswell, Barnstaple
Consultation is now closed. The Public Consultation Report is now available.
Introduction
Following the government's announcement of the Bus Back Better National Bus Strategy in 2021, Devon County Council published the Bus Services Improvement Plan in 2022 to prioritise bus improvement schemes across the county.
Devon County Council is developing bus lane improvement proposals at Roundswell, Barnstaple and held a public consultation from 26th May to 23rd June, 2023.
Consultation
We invited you to feedback your comments on the proposal which could be sent by:
The consultation closed on Friday 23rd of June 2023.
Improvements at Roundswell
The proposal includes bus priority along 500 metres between Gratton Way and Roundswell roundabout via a new bus lane. The scheme will improve bus journey times for services from Barnstaple towards Roundswell roundabout. It promotes priority for buses and taxis to avoid the queuing traffic, ensuring more reliable bus services onto the A39, therefore improving existing patronage experience and encouraging the further use of public transport services.
Government funding has been secured, and we aim to complete the final design after the public consultation and build the scheme in Spring 2025 (subject to the public consultation results and Cabinet approval).
Click here for a plan of the proposal, alternatively, it can be seen below.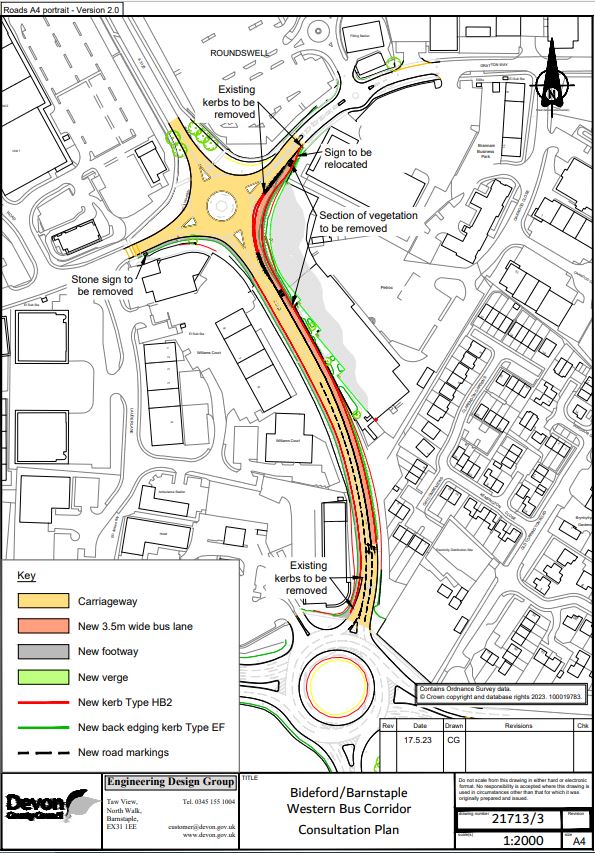 Documents
Accessibility
We take accessibility seriously and recognise that some of the information presented in the files available on this page may not be fully accessible to someone using assistive technology such as a screen reader.
If you need guidance or an alternative format, email transportplanning@devon.gov.uk with details of any preferred format and the assistive technology you use.
From
26/05/2023
Until
23/06/2023
Results published
14/07/2023