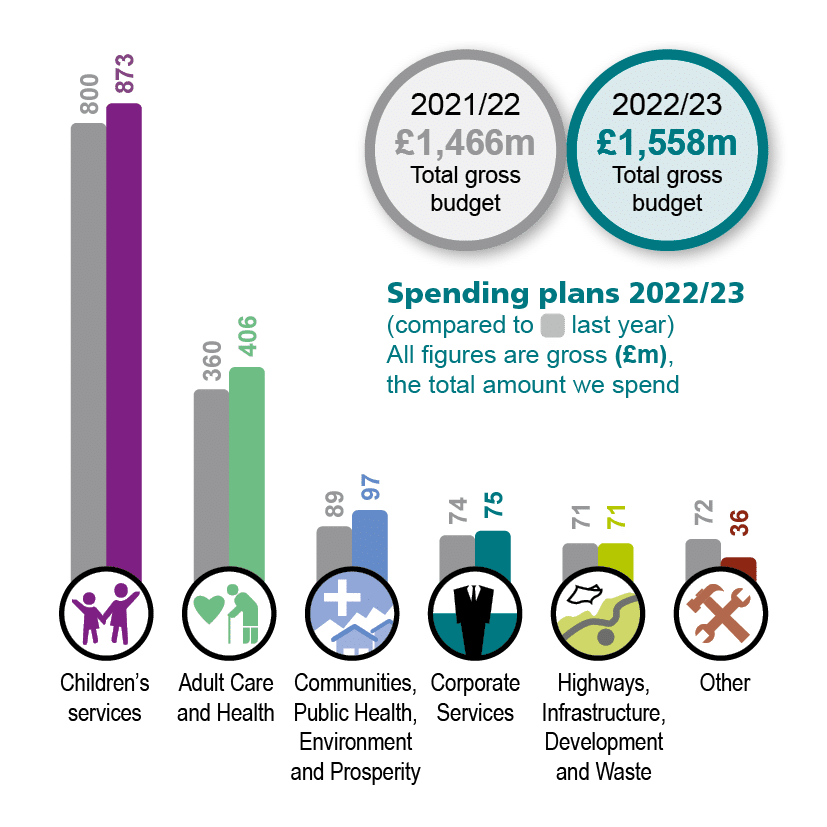 Financial targets are set for all the areas of activity that are undertaken by the County Council. Day-to-day expenditure and income are referred to as revenue and investment in assets is referred to as capital.
Elected members approve all budgets of the Authority and throughout the year monitoring of expenditure and income is undertaken to ensure that spending remains under control.
The funding for the budget currently comes from several sources including council tax, business rates and government grants, fees and charges.
The Budget for 2022/23 is one of the most challenging the authority has faced. The pandemic has placed immense strain on the health and social care system over the last two years; demand for services, significant cost increases and increasing intensity of care required is causing huge pressure on the authority's budget. This coupled with the need to invest in and improve our services to children has meant investment of almost £80 million is needed in these services next year – this level of investment is unprecedented.
In February, the Secretary of State for the Department for Levelling Up, Housing and Communities (DLUHC), Rt. Hon. Michael Gove MP, released a written statement to Parliament on the final local government finance settlement 2022/23. The 2022/23 local government finance settlement is for one year only and is based on the Spending Review 2021 (SR21) funding levels. This is the first time since 2015 that, in the context of a multi-year Spending Review, the government has only provided local authorities with a single-year settlement.
There is a significant level of uncertainty around the authority's sources of funding after 2022/23, including the Levelling Up White Paper and what that means in the distribution of Government funding to local authorities, including Devon.
The authority plans to use just under £30 million of earmarked reserves in 2022/23 to invest in services, which is just under 24% of the authority's estimated earmarked reserves of £125.5 million at 31 March 2022. The invest to save initiatives are anticipated to yield improvements that will remove the need for such significant use of reserves in future years.
In addition, the authority needs to have sufficient reserves and balances to offset the cash spent on the significant projected deficit on the High Needs block for Dedicated Schools Grant.
Budget
Revenue and capital outturn
We take accessibility seriously and recognise that some of the information presented in the files available on this page may not be fully accessible to someone using assistive technology such as a screen reader. If you need guidance or an alternative format, email finance@devon.gov.uk with details of any preferred format and the assistive technology you use.
More information