In 2019 Step Forward worked in partnership with the Rural Payments Agency (RPA) to offer two Executive Hub Apprenticeships within the RPA's Exeter-based team, which were specifically developed and ringfenced for care leavers.
Work began in August 2019, with an ambitious timescale of having the apprentices start with Exeter College (the apprenticeship training provider) and the RPA in September 2019.
Working together (Step Forward, RPA and Exeter College), a three-step recruitment, selection and induction process was developed to facilitate getting the best out of our young people. This included young people attending an information sharing event before they applied, an informal (yet robust) interview process and continued support for the young person, once appointed, via Step Forward.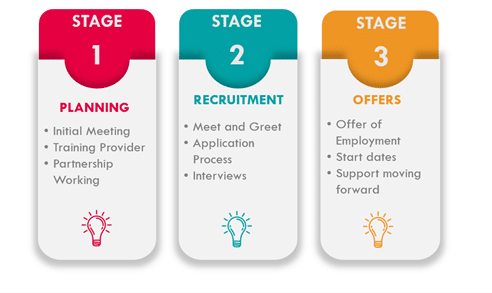 Two offers were made, and one young person accepted this amazing job offer, with the other deciding to take other employment.
Since then, the RPA and apprentice have continued to support Step Forward, including attendance at the South West Apprenticeship Ambassador Conference (sharing the case study with a wide range of south west employers) and meeting with one of the Council's partner organisations, Skanska, to sell the benefits.
The young person is a member of the Young Apprenticeship Ambassador Network (YAAN), promoting apprenticeships (and Step Forward) to young people in schools and colleges and was recently a finalist in the Radio Exe Outstanding Apprentice of the Year Award, with the impact Step Forward had on his success being part of the nomination. He has also now become a permanent member of the RPA team.
We use social media to promote Step Forward to young people and employers and this includes our blogs – you can find out more about the RPA apprentice here – Step Forward – meet Josh.
Jake McClure, Chief of Staff at the RPA said at the time of the recruitment process:
"Thank you so much for Step Forward's support – we were over the moon to meet such great young people".
Jake has since talked about the benefits care leavers can bring:
"Step Forward provides a great pipeline into your organisation, helping you to meet your recruitment and skills needs. Providing opportunities to young people who may otherwise have difficulties in accessing opportunities that meet their aspirations is really rewarding, encourages social mobility and ensures that you bring a diverse range of backgrounds, knowledge and skills into your workforce".