Stover Country Park has recently been awarded a £341,000 grant from the National Lottery Heritage Fund (NLHF) for its exciting Restoring Stover Park project. This project aims to restore, enhance and conserve Stover Park by:
removing 20,000 tonnes of silt from Stover Lake to restore the Site of Special Scientific Interest (SSSI) habitat for its rare dragonfly species and invertebrates to a favourable condition – SSSI means that the site is important to science because it has rare species of plant or wildlife and needs to be protected
restoring part of the Serpentine Lake which was a landscape feature created in the late 18th century
restoring and repairing three 'at risk' buildings – this means that these buildings and features are in danger of being lost because of neglect, decay or unsuitable development – these are the Souterrain Stables, the Ionic Temple and the Granite Gatehouse (see photos)
redesigning the Visitor Centre to improve facilities for staff, visitors, groups and the community – this will include office space, community workshop and meeting space, interpretation so visitors can understand more about the history and wildlife in the park, refreshments and toilets
improving routes throughout the wider park so visitors can appreciate the wider heritage and enjoy longer walks and rambles
developing a new volunteer programme to increase the number and type of volunteering opportunities at the park
developing a full programme of inclusive activities at Stover Country Park
The development phase
This £341,000 grant is for the development phase of the Restoring Stover Park project. This means that during the next 12 months we will be working to develop all of the above elements, achieve all of the relevant statutory consents and work out full costings in order to deliver the project.
By the end of May 2022, we need to submit a grant application to the NLHF which will contribute towards the overall cost of the project. If we are successful, we will move into a three-year delivery phase.
Our partners
In order to achieve our aims, we are delighted to be partnering with a number of national, regional and local organisations including:
Natural England
Historic England
all the landowners across Stover Park
Friends of Stover Park
Age UK Devon
Action for Children
Hikmat Devon
Living Options
Action on Climate Teignbridge (ACT)
Newton Abbot CIC
We will increase our partnerships over the next 12 months to ensure we are engaging with as many individuals and groups within local communities as possible to help shape the project.
Fundraising
By May 2022, we need to secure match funding which is necessary to deliver this project. A key part of this will be working with the Friends of Stover Park charity who will be raising money towards the match funding.
As part of this work, we ran two Easter Trail events with the Friends of Stover Park in April 2021 and we are looking forward to shortly unveiling a new sculpture near the entrance of the Visitor Centre that will enable visitors to make a contactless donation to the Friends of Stover Park.
Become a member of the Friends of Stover
We require more members within the charity. By becoming a member you can help the charity in its educational and charitable support to members and guests of Stover Country Park and to maintain the park as an open space and amenity for the local area.
Take a look at the Friends of Stover Facebook page to find out more about them or get in touch by emailing friendsofstoverpark@gmail.com.
Meet the team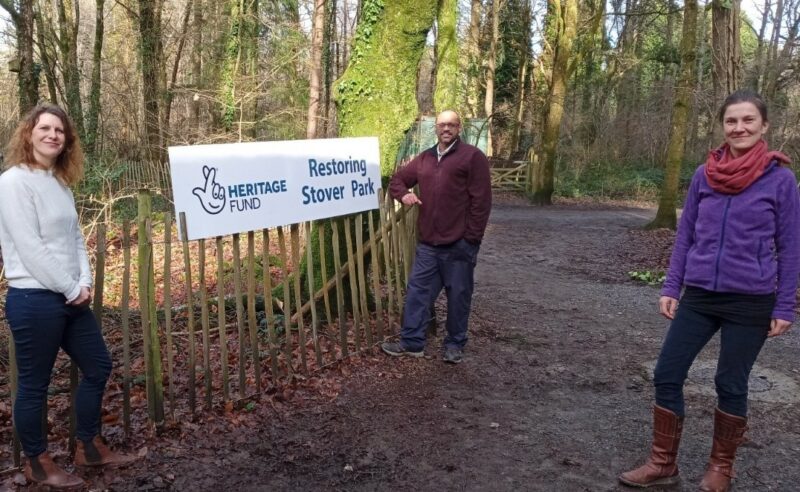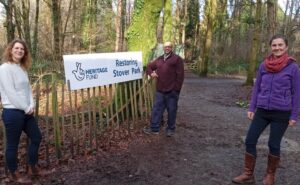 Pictured are:
Project Officer: Gary Prescod
Community Engagement Officer: Eve Malster
Administrative Assistant: Carol Clifford
Get in touch with the team by emailing restoringstoverpark@devon.gov.uk.