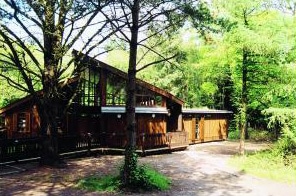 The Nature Interpretation Centre offers classroom facilities for school groups as well as high quality displays interpreting the wealth of plants and wildlife found in the park.
Within the centre there are two CCTV camera links, one to a fixed camera in a nest box and the other, user controlled with a joystick, to a camera on a pole in the lake showing the unusual and changing perspective of the park.
There are many sustainable aspects to the new Interpretation Centre:
The centre was designed to blend into the woodland surroundings, and have a minimal impact on the local environment.
Habitat removal was limited.
By building the centre off the ground, the foundations were in the form of a small number of concrete pads which support the feet of the building. This meant that excavated ground material and incoming concrete amounts were minimised. Where possible the building was constructed using materials which were either recycling or reusable, for example, timber, glass, rubber tiles and recycled newspaper for the insulation.
The reduction of the ongoing energy usage of the building was an important aspect and has been considered carefully. The positioning of windows on all aspects of the building maximises natural light entering the building and saves energy by reducing the need for internal lighting.
Natural ventilation via the windows and doors.
A system of heat pumps drawing energy from the lake has been adopted, connected to an under floor heating system.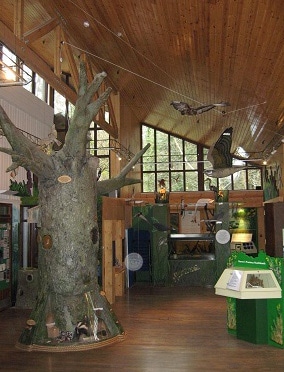 The following facilities are available for teachers and school groups:
classroom with seating and tables
whiteboard, flipchart and OHP
display space
fascinating interactive display explaining many aspects of the environment, geography and history of the park.