November is the month when old man's beard covers the trees and hedgerows. Late-flowering ivy, scabious and michaelmas daisy provides nectar for many insects before they hibernate for the winter.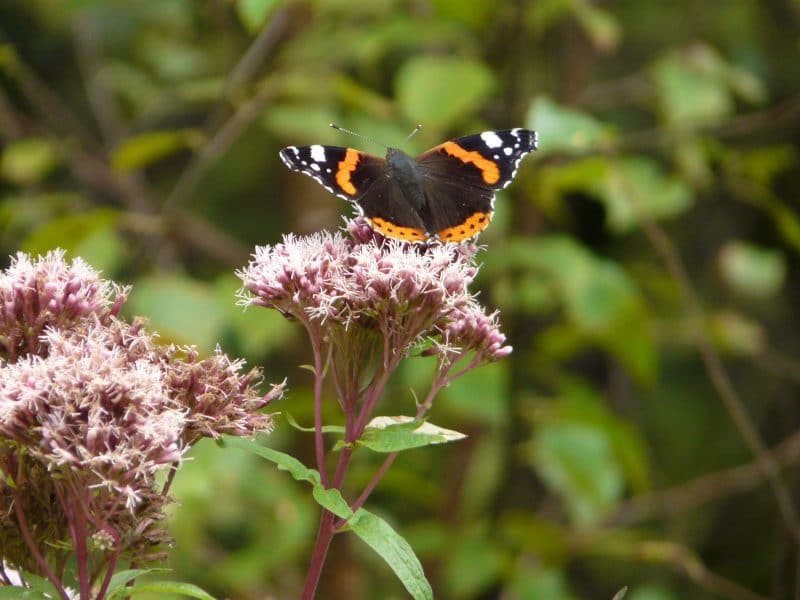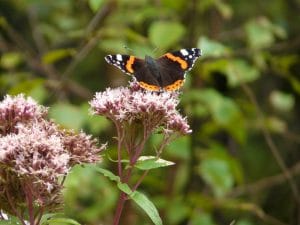 During October the weather stayed unseasonably mild with butterflies still on the wing, especially red admirals, during the dry days. Dragonflies were also in abundance with common darters, migrant hawkers, common hawkers and southern hawkers flying up until the end of the month.
British trees keep their leaves well into the autumn, generally until the first hard frost or really high winds. Once the trees become bereft of their leaves, the tree skeletons reveal a range of summer homes, such as birds' nests, that were previously hidden. Not all the nests which come to light are for summer though – winter squirrel dreys also become apparent. These are generally built in the forks of large trees against the trunk, where they will be protected from winter storms. They often look rather untidy, and one of their diagnostic features is that the squirrels use twigs that still have leaves on them.
Roe deer bucks cast their antlers during November and December so keep an eye out for discarded antlers. Hedgehogs are preparing to hibernate this month. Field voles live in areas of unmanaged grassland under the mat of tangled grasses which forms at the base of stems. Their numbers are high at this time of year and, as the long grass dies back, they can make new runs and nests in its cover. Spiders' webs abound in November and are best seen in the marsh first thing in the morning when they are covered in dew. The October bat box checks revealed 13 soprano pipistrelles and 21 Natterer's; 18 of which were found in a single box.
The woodland birds will be easier to see once the leaves have started to fall. November is probably the least territorial month of the year for woodland birds. Many which are fiercely independent for the rest of the year will actually flock together. This seems to be for safety reasons as feeding is such a priority during the short cold days. Flocks of long-tailed tits, nuthatches, goldfinches and goldcrests are present in the Park. Keep an eye out for large flocks of wood pigeon and crows which can be seen flying over Stover at this time of year. Winter migrants will continue to arrive at Stover this month. Siskins can be seen feeding on alder, chaffinches on fallen beech masts and bullfinches on hawthorn berries. Jays and squirrels have started to cache acorns among grass roots and leaf-litter. 2022 has seen a bumper crop of nuts, especially acorns, and berries. Last year we were hard pushed to find a single acorn. 2020 was another good year for acorns; it often happens that some years are poor for nuts and is thought that the trees synchronise to control the numbers of species feeding on them….we have a lot yet to learn about tree communication ! Look out for split-open acorns and hazelnuts in the fissures of bark left by nuthatches. Keep an eye out for crossbill as there is not long to go before they start building the first of next year's nests, sitting on their eggs during the short cold days and even longer colder nights of December. Siskin have been recorded since September. Fieldfares, starlings and redwings will fly westward across the country during November. Listen out for the characteristic 'tseep' of migrating redwings passing overhead at night. These contact calls probably serve to keep flocks together. The last of the swallows to leave Britain in October should now be in their wintering grounds. Though breeding blackcaps, like other warblers, leave Britain to spend the winter in warmer areas, 10,000 or more come from Austria and southern Germany at the end of October and early November to spend the winter in Britain. Collared doves, and sometimes even woodpigeons, start nests at any time of year, as long as there is a reliable food supply.
The maximum number of tufted duck during October was 27, with pochard yet to appear. Up to four cormorant were recorded and will increase in numbers as the winter progresses. Kingfishers and herons were recorded on the lake throughout last month. Up to two little grebes and up to 12 Mandarin ducks were seen on Stover Lake in October. Keep an eye out for wigeon and gadwall. Female wigeon are more uniformly brown than other female ducks, with a small bill. Wigeon are unusual as they are grazing ducks, eating grass like geese, but will also 'upend' whilst feeding on the water. One male wigeon was recorded on 21st October. Most gadwall which breed in Britain are concentrated in East Anglia, where they are descended from captive stock. Their true homeland is in Central and Western Asia and North America.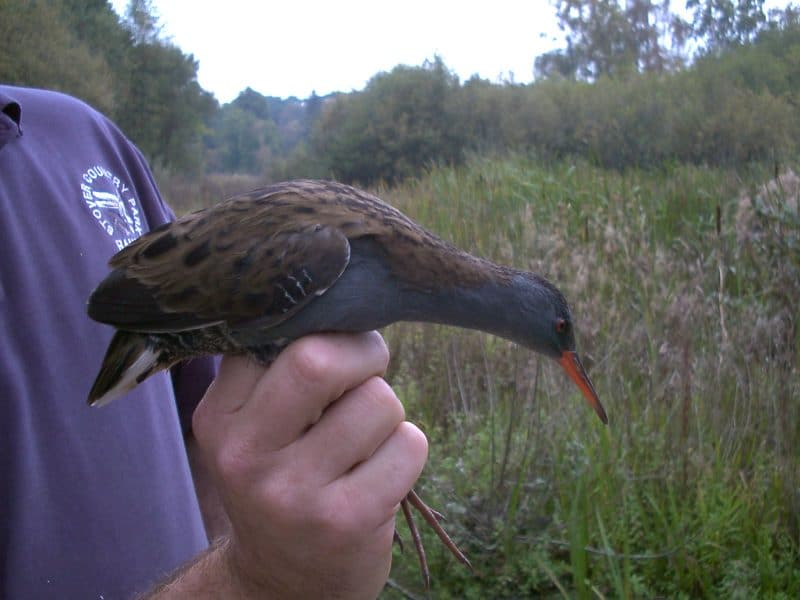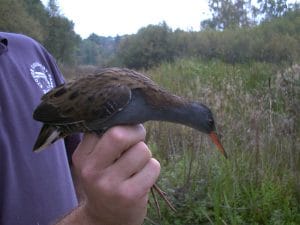 Teal are Britain's smallest duck, and although present all year round their numbers are swelled in the winter by a large migrant population from northern Europe. Hence sightings of teal are more likely to occur during the winter at Stover. One female shovelor was recorded on the 21st. Five Canada geese arrived on the 8th. The five juvenile mute swans are doing well and can be seen practising flying over the lake ready for when they leave home. Snipe will start to increase during November – these waders can be spotted in the daytime at the edge of the marsh. They leave at dusk to feed on the pastures on the River Teign flood plain. Keep an ear out for the pig-like squeaks of water rail in the marsh. The highest counts of 82 coot and 32 moorhen were recorded during October. The black-headed gulls are increasing in numbers.
A great white egret was recorded on 3rd October. Whilst a rare sighting, it isn't the first and numbers in the UK are increasing. Its bigger size and black feet distinguish it from the more common little egret.
This year's Christmas Carols with the Newton Abbot Salvation Army is on Tue 13th December – bookings are being taken via Eventbrite, however anyone without internet access can book a ticket at the Visitor Centre. This Volunteers Day (27th November) will be spent working in the marsh removing the invasive willow and alder saplings. This enables the marsh to retain a species rich sward unshaded by any trees which will benefit a wide range of dragonflies and other invertebrates, wading birds and amphibians. All are welcome – please bring wellies!
Forestry operations will be happening by the Visitor Centre so please keep an eye on the Stover Facebook page, and on-site posters for details regarding path closures. Apologies in advance for any inconvenience.