The leaves on the elder trees are just starting to turn yellow indicating that autumn has finally caught up with Stover. Horse chestnut and beech are usually the next trees to don their autumn colours, although due to the second heatwave last month many chestnuts have already turned brown. For the next month the Country Park will be laden with fruits, seeds and nuts. Blackberries are in abundance and have ripened early, and the red rowan berries and black elder berries in particular stand out around the Park. The consumers will start to fatten themselves up before hibernation or migration and, at the same time are dispersing the plant seeds. Foxes and badgers will take advantage of the abundance of blackberries, which show up in their droppings. Squirrels will start to bury their food and some resident birds are already making preparations for the winter. Marsh, willow and coal tits along with jays will start to store acorns and nuts in a variety of places throughout the woods, which they will eat during the winter when food sources are scarce. A single jay will store hundreds of acorns over the autumn months. They have excellent memories and are able to locate most of their stores. Some acorns however are forgotten or are not needed, and these will grow into oak trees if conditions allow.
The robins have now resumed singing after their summer break. The first 'winter' song was heard at the beginning of August. During September the last of the young robins get their full plumage and will sing to defend their territories which they will need to survive the winter. Tawny owls are at their most vocal in September as pairs set up territories for the spring. Small flocks of starlings have been recorded gathering on one of the pylons during August. Larger numbers gather there during the autumn and winter at dusk before they roost overnight.  Keep an eye out for hobbies over the lake this month; they take advantage of the local dragonflies and young inexperienced swallows and martins, which they then follow on their migration to south of the Sahara. The adult nightjars will have now left Stover to migrate back to Africa, the young following on this month.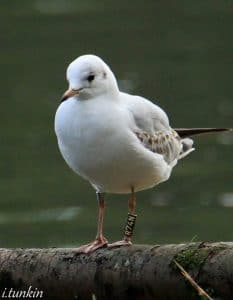 The great autumn bird migration is now underway with the swifts having already left.  Keep an eye out for flocks of swallows, house martins and sand martins as they start to mass ready to head south. As these migrants leave, our winter residents start to arrive. The black-headed gulls started to get their winter plumage in August (they lose their black heads !). The three great-crested grebe chicks are now independent and are feeding themselves. Juvenile moorhen and coot can be seen on the lake as they move through Stover to disperse, and the five cygnets are almost fully grown. A little grebe was recorded mid-month with two on 15th August. Kingfishers, herons and herring gulls were recorded on several occasions last month. The male mandarins are starting to grow back their colourful plumage after their moult. The Spring broods of mallard ducks are now fully grown, and two new broods of ducklings hatched out in August, along with additional broods of coot and moorhen. Up to 11 tufted duck have been present on the lake last month, with three pochard arriving on the 31st – the start of the autumn wildfowl migration from Russia and the north ahead of their freezing winter weather. Two gadwall arrived on 14th August – our British population are boosted by migrants from Eastern Europe. A common sandpiper was recorded on 7th August; they are usually spotted at Stover in August on their journey south to overwinter in Africa. A few remain in the South of Britain providing winter sightings.
Adders basked in the sun on the heath on the hotter days of August and grass snakes were seen swimming in the lake. Young newts will start to leave the lakes and ponds this month. Now that the breeding season is over many animals are now foraging and feeding in preparation for winter. Badgers extend their setts in September and their young become independent. Young weasels will also start to disperse along with young mink. The latter rarely have territories of their own and so move around the countryside. To avoid meeting adult territory holders at night, when they are hunting, young mink will hunt during the day making them easy to spot. Keep an eye out for dead shrews on the paths in the woods. Unfortunately, autumn is the peak time for adults to die as they only live for just over a year. Harvest mice are usually associated with arable farmland. However, Stover has a healthy population that make their ball-shaped nests in the reeds in the marsh and amongst the tall grasses in the meadow areas.  They continue to breed well into October and the young from these late litters that survive the winter form the majority of next years breeding population. As the vegetation dies down during the autumn the breeding nests become more visible. Hedgehogs breed well into September and will become more visible in daylight hours as they actively feed to put on weight before the winter.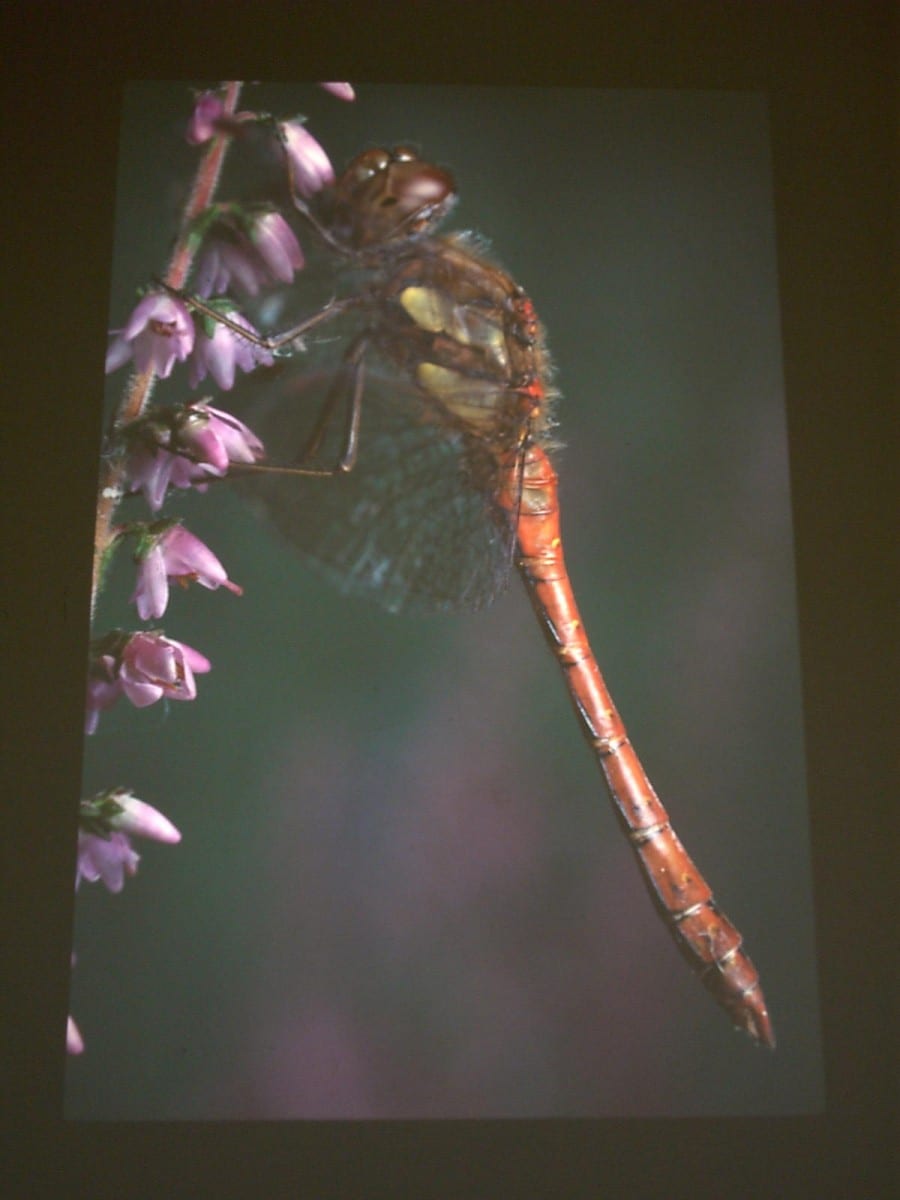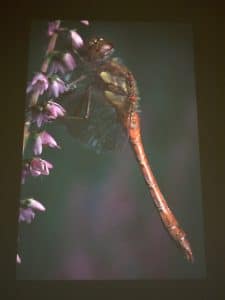 On sunny days there are still plenty of butterflies and dragonflies about. The second generation of Stover's butterflies are now on the wing and as many species hibernate it is vital to have a late supply of nectar in order to survive. That is why the late flowering plants such as fleabane, heather, scabious, ground elder, mint and yarrow are so important for many insects. Ivy flowers in the autumn and produces berries in the Spring; providing nectar and pollen at just the right time for hibernating insects to build up their reserves. There have only been single sightings of painted lady and clouded yellow last month. Usually in heatwave years there's a huge influx of these butterflies from the continent.
Southern, common and migrant hawker dragonflies are now on the wing. The most abundant dragonfly usually seen during September is the common darter, along with emerald and azure damselflies. Many grasshoppers and crickets are continuing to sing.
Keep an eye out for the varieties of fungi, which will soon start to appear around the Park once we've had a reasonable downpour !