With the shortest day thankfully behind us, spring isn't far away. Spring is signalled in the form of birdsong. The usual communication calls of birds are joined by the songs of territorial birds claiming their space and advertising for mates. Apart from robins (both male and female sing over the winter), bird song is usually delayed until late-December or even until the New Year. For months the sound of robins defending their territories has been the only true song we have heard. Great tits joined in during the last week of December, with mistle thrush song first recorded on the 29th, and song thrush on the 23rd November which is a very early record. The starlings, chaffinches and greenfinches that will join the chorus later are still gathered in flocks – there is still the rest of the winter to get through before nesting! Listen out for great-spotted woodpeckers drumming on the trees – if the weather remains mild it's possible to hear them in January.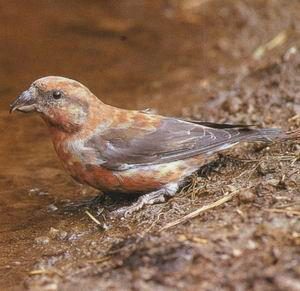 Keep an eye out for wrens, which will often crowd together to roost in favoured sites in large numbers to conserve heat. Nestboxes are often used – more than 50 birds have been found in a single box at night. Listen out for the hoots of tawny owls. Like robins they have already paired up and have set up their territories. The crossbill, a coniferous woodland finch, is now nesting making it the earliest nesting British bird. Nests are situated high up in pine trees and can be very difficult to spot. Eggs are laid at this time of year because the crossbills' main food, pine cone seeds, become available for the first time in the depths of winter. If cone crops are good, crossbills can easily gather enough to feed themselves and their nestlings. Most of the early nestlings fledge this month. Another bird found in the conifer plantations is the goldcrest – Europe's smallest bird. Our resident population is boosted in winter by immigrants arriving from colder conditions in the north. Firecrests are often spotted in amongst flocks of goldcrest. Firecrests look very similar but are identifiable by their black and white eye stripe. They are chiefly a passage migrant seen in autumn and winter. Siskin have been recorded in December in the alders around the lake.
There are small finch, blackbird, jackdaw, starling and redwing roosts in the Park – the latter are the smaller of the two winter-visiting thrushes (the larger is the fieldfare) that stream in from Europe. They feed on invertebrates for as long as they can, but when the ground freezes they transfer to fruit. They flock to berries, hips, haws and windfalls. Because they are so conservative in their tastes redwings often starve to death while other thrushes are seen tucking into kitchen scraps, fat and seeds.
Keep an eye open for woodcock this month. They lie low in damp woods, not taking off until you almost walk on top of them. They are more evident at the moment, their numbers swelled by visiting birds from the frozen North and Scandinavia.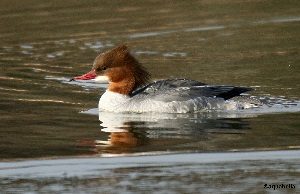 A single great-crested grebe was recorded at the beginning on December and then again on the 30th, with up to 3 little grebes, and a low count of up to 4 cormorants. Highest counts of wildfowl were 2 pochard (they have been continually declining over the past ten years or so), along with 36 tufted duck, (another rise in numbers this winter from 18 in December 2019 and 26 last December). One teal was spotted on 9th December. Up to 2 shovelors were recorded on the lake last month with up to 3 gadwall, 8 mandarin ducks and 16 goosander, which is an increase from the previous year. Along with the red-breasted merganser, the goosander is a sawbill duck which feeds on fish (hence needs the serrated cutting edges to its bill ie. 'sawbill') and are frequently seen on reservoirs and lakes in the winter in large concentrations. Up to 160 black-headed gulls were present on the lake last month along with small numbers of herring gulls. Kingfishers are easier to see at this time of year. With no leaves on the trees, the contrast of their bright feathers against the muted colours of winter makes them stand out brilliantly. Herons breed earlier than most birds, and once it turns mild then look out for a lot of noisy activity at the heronries. Water rail have been heard calling from the marsh and over 20 snipe were recorded on 3rd December including one jack snipe. Coot and moorhen numbers remained high, up to 79 and 13 individuals respectively, due to the aquatic plants that have been able to grow now the water is clearer. The coot numbers have doubled since this time last year.
On the mammal front, now is a good time to see roe deer, foxes and stoats as they search for food. The foxes and squirrels breeding season is currently underway. Listen out for foxes mating calls during the night; the most eerie is the vixen's scream announcing that she is ready to mate. There were two separate sightings of otters last month in daylight so keep an eye out around the watercourses. During mild winters amphibians such as frogs and toads have started to spawn this month.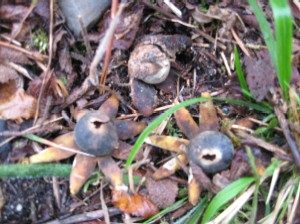 Snowdrops are due to emerge in January and the honeysuckle leaves have already started to grow. Keep an eye out for hazel catkins and primroses which will start to appear during January. There are a few ferns, such as the hard fern, which survive the winter, giving some greenery to Stover. Most of the fungi have now died down, but one of the stranger species, known as the earthstar fungus, appears at this time of year. It can be found in deep leaf litter and on old twigs under trees. At first, they are more or less buried, but eventually their globular fruiting bodies appear from the surface and split open into pointed segments. These curl back giving the fungus its name. Barometer earth star fungi were discovered in the Park nine years ago and have appeared again last month. Only 14 records exist for Devon, the majority of which are from the 1800's making this species very rare indeed.