Exe estuary trail – Courtlands board walk
Courtlands Boardwalk was constructed in 2007 and forms part of the Exe Estuary Trail. The boardwalk consists of 75 spans with 74 spans being constructed of timber and one large steel span. The timber spans are supported by steel trestles on top of concrete pile foundations.
A routine inspection of Courtland Boardwalk by Devon County Council had found extensive deterioration and rotting of the timber elements – including the main structural beams, the deck planks and secondary timber elements.
Since this inspection, Devon County Council have been carrying out regular monitoring inspections and maintenance to keep the boardwalk safe and open to the public. This will continue until the replacement works commence.
What we are doing
All timber elements of the existing boardwalk are being replaced with glass reinforced polymer (GRP) elements.
GRP is a strong, lightweight material that is easy to install and extremely durable, requiring very little maintenance. We found that given the environment that the structure is in, a timber replacement would not be suitable as the current structure has only lasted 15 years before requiring replacement.
The new GRP elements have a design life in excess of 75 years and a life expectancy of over 100 years. The GRP element cores are made of recycled plastic bottles. Meaning the new structure will contain over 500,000 recycled plastic bottles.
Due to the intrusive nature of the work (all of the timber elements will need to be taken up and replaced) a section of the Exe Estuary trail will be temporarily closed and a diversion will be in place.
When will work commence
The works are programmed to commence in mid to late September and are expected to be completed in December 2023. The work is being undertaken by Bridge Civil Engineering Ltd on behalf of Devon County Council.
Diversion Route
For the duration of the works, the section of the Exe Estuary Trail shown in red below will be closed. A fully signed diversion will be in place for the duration of the works. The sections shown in blue will be open to the public.
The main diversion route is approximately 1.7 miles long. This adds 1.1 miles to a normal journey along the Exe Estuary tail. This is shown in green.
The diversion takes you up to Exeter Road where pedestrians can use the footpath. Cyclists will need to cross over and follow the slightly longer route which avoids cycling on the main busy road. There will be a temporary crossing positioned next to the petrol station to provide an additional safe crossing for this route.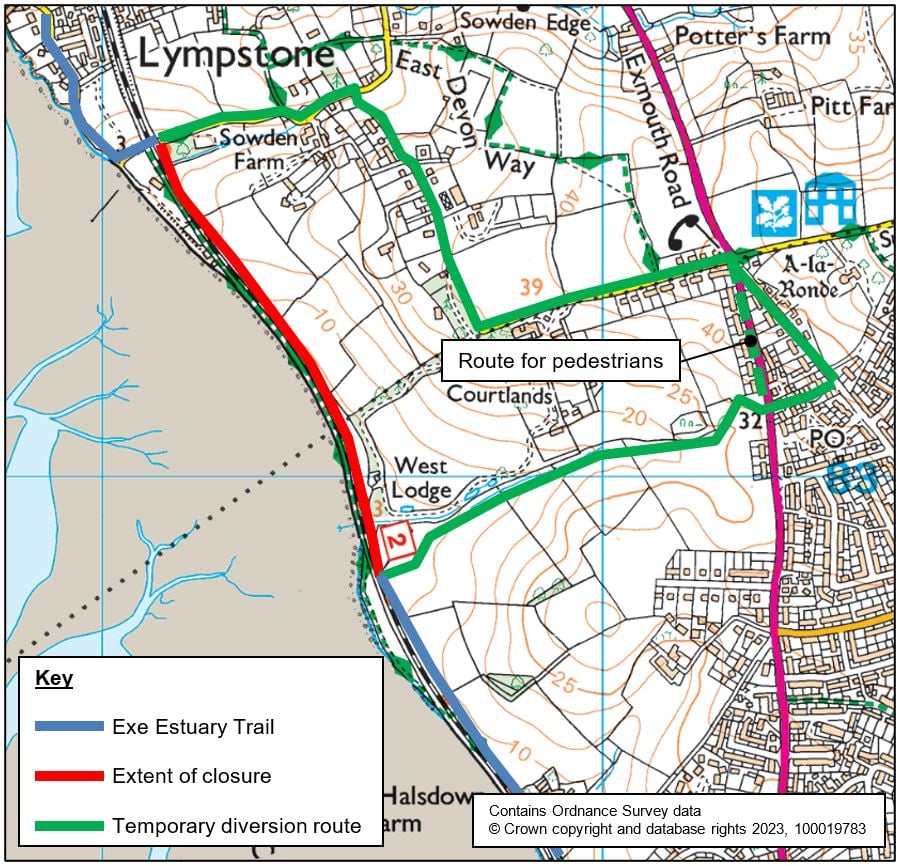 While using the diversion route pedestrians and cyclists should be aware that Wales and West Utilities are carrying out work on Courtlands Lane under a road closure. The road will however remain open for pedestrians and cyclists. Due to these works, we ask that cyclists slow down while travelling along Courtlands Lane.