What is the Adult Social Care- Workforce Dataset (ASC-WDS) and the Workforce Development Fund (WDF)?
The ASC-WDS is an online data collection service that covers the adult social care workforce in England. There are currently around 20,000 care providers using the ASC-WDS service. The data collected is vital to the Government, the Department of Health and Social Care, local authorities and the Care Quality Commission as it allows them to plan, fund and monitor the sector. The service helps care providers run their business and manage their staff training needs. It can also provide access to the WDF, and this allows you to claim back money towards the costs of workers completing a broad range of adult social care qualifications, learning programmes and digital learning modules.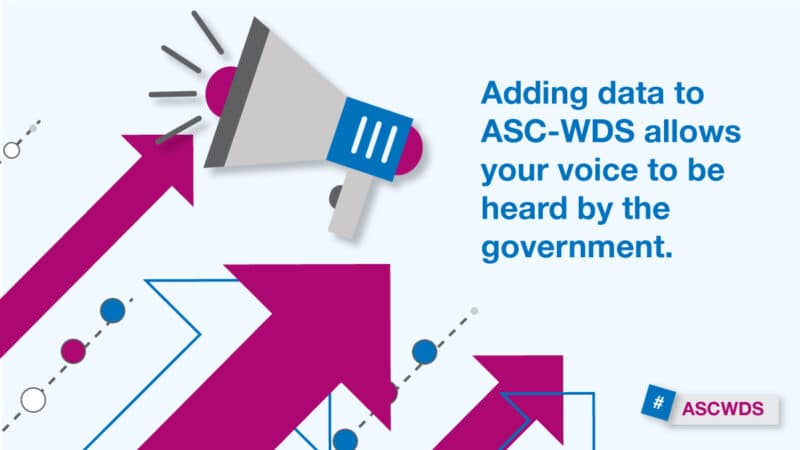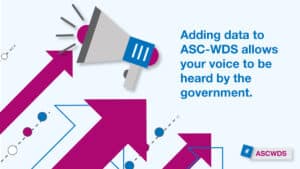 What can you do in ASC-WDS? Watch this 5 minute video called Inside ASC-WDS to see!
What are the benefits?
The ASC-WDS can help you manage your team and makes sure your voice is heard by the government and other key sector decision makers.
ASC-WDS Benefits Bundle- New and existing users of the service now have access to special offers and discounts across products including:
Exclusive offers from endorsed training providers
10% off values-based interviewing and valuable conversations bespoke seminars
10% off eLearning modules from Skills for Care
Benchmarking- See benchmarks that show how your business is performing. Benchmark your workplace against others offering the same service in your local authority area. Access information about how your service is performing on workforce metrics. This feature is currently only available for regulated care.
Record your training and qualifications data- Search, record and manage mandatory training by job role and get alerted to make updates and fill gaps in your training. Training reports also help you to evidence that you're fully up to date with your staff training during inspections.
Provide intelligence to decision makers such as Government, DHSC and local authorities- The workforce is central to the adult social care sector. It determines the quality of care experienced, the success of care providers and the funding needed. So it's vital that we understand the workforce and the issues affecting it.
Get access to the Workforce Development Fund- Check and update your data so that it meets the Workforce Development Fund requirements. You can then claim funding towards training and qualifications for your staff.
Store and access key information about your staff- Create individual staff records that store personal details and other information, and access them all in one place.
How to access?
Creating an ASC-WDS account, you will need to provide a few basic details to get started including:
Is your service CQC registered? (You don't have to be a registered provider to access)
Add your workplace using your CQC location ID or postcode.
Name of workplace
What's the main service you provide?
How many staff do you have?
Your name, job title, email address and phone number
Username and password, and security question
This takes around five minutes and once it is done, the support team will check the details you have provided in order to approve your account. Create an account here. Once your account has been approved you can start to add information about your workplace. To access the Workforce Development Fund, you will just need to add this information every 12 months.
Workplace information: Do you provide any other services? If applicable, what service capacity do you have? Who are your service users? Do you have any current vacancies? How many staff have joined and left in the last 12 months?
Staff records: Personal details and demographic information, Employment details such as contracted hours, salary and sickness, Qualification details such as the highest level attained and whether the Care Certificate has been completed.
Keeping your data private, safe and anonymous
Skills for Care use the data within ASC-WDS to provide high-quality intelligence for decision makers such as Government, DHSC and local authorities. However, it is important to understand that your data is kept private, secure and all figures anonymous. Your staff cannot be identified from the information you provide within the analysis.
Sharing data with your local authority, by adding your data to ASC-WDS, we can be more aware of business and workforce needs in the area, and can target training events, funding information, advice and guidance and workforce planning regionally, sub regionally and locally. Access to higher levels of valid and reliable workforce data will help us to ensure we have a more comprehensive picture of the local adult social care sector. Your data will remain anonymous unless you opt in to share specific information with Skills for Care. We would recommend that you opt in to share information.
---
What is the Workforce Development Fund? Open for 2023-2024 fund!
The Workforce Development Fund allows you to claim back money towards the costs of workers completing a broad range of adult social care qualifications, learning programmes and digital learning modules. To apply for the WDF you will have to apply through the local partner for the Devon area, Devon Care Home Collaborative (DCHC).
How to claim for WDF- more details to come for 2023-2024 fund
What can be funded?
Money towards the cost of course fees (or employer contributions) and associated costs such as:
Employees' salaries whilst they are undertaking training
Coaching and mentoring costs
Venue costs for the training
Wage replacement costs
How to get support?
If you need help accessing your account or getting set up, Skills for Care's friendly support team are available to help. Call 0113 241 0969 or email ascwds-support@skillsforcare.org.uk. For any questions related to claiming the WDF please contact DCHC wdf@devoncarehomes.org.
FAQs and top tips!
You can claim WDF for staff backfill for apprenticeships as well as apprenticeship levy funds
You can claim back training certificates from
Once you have registered all your staff, make it a part of your induction checklist, when you have a new starter to add them to the ASC-WDS
You will just need to check/edit your data and if you are compliant once a year to access the WDF